Many of you have been waiting for my father's soutzoukakia recipe!  I wanted to take a moment to thank everyone for being so incredibly supportive of foodandheart.com.  A few days ago, I received a really sweet note from a very dear family friend who was particularly encouraging… she said that this is probably the best gift I could give to Anna.  Not that Anna is interested in cooking much at this stage, but you never know.
Most of us become interested in our family's history as we grow older.  It's remarkable how many parallels exist from generation to generation, and the lessons learned (or not learned) in the discovery process.
The best part of writing this blog is that I don't know who reads it until I see a comment, or an email from people who've read my posts.  Having written blogs in the past for business, it's refreshing to not have to worry about ROI, meeting target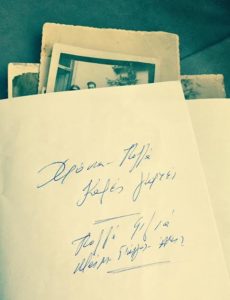 goals of impressions, etc.  If someone doesn't care or like the blog…well, you know what to do!
So, my mom brought with her some old photos that I haven't even seen from my cousin Mary in Athens.  She's my only first cousin from my father's side.  Mary is my aunt Sophia's only child.
As I've mentioned, we're a tiny family on that side due to the massacre of the 1920's in Asia Minor.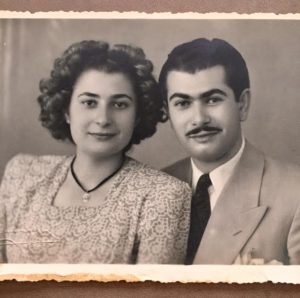 Cousin Mary is about 21 years older than me, and got married pretty young to George, a military pilot of the Greek air force, who I've always adored!  I remember both of them babysitting us when we were little and I considered them as my second set of parents.  They have a son, Aki, who is 14 and helped facilitate the family photo sharing with my mom during this past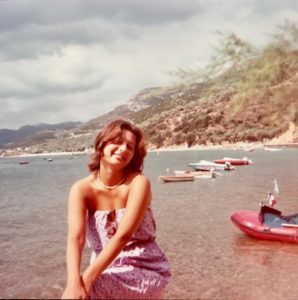 trip.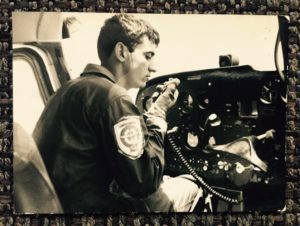 I have fond memories of our family spending Sundays together in Agia Marina, at the "ktima" (farm), where Mary's parents had retired.  Sophia, my father's sister, and her husband, Andreas, had acres and acres of land, with olive trees, artichokes, tomatoes, zucchini, fig trees, orange trees, and pomegranate trees (my aunt's favorite… she would say that every house should have one).  They also had a chicken coop with fresh eggs available every day!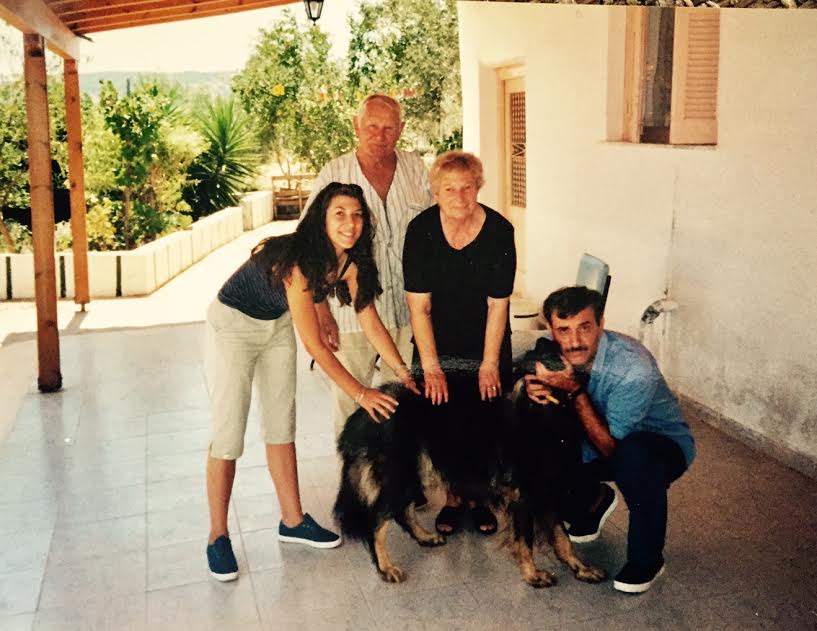 One of our family's favorite dishes, inspired by our Asia Minor roots, is a meat dish called "soutzoukakia."  The dish is basically meat balls slowly cooked in a delicious tomato sauce that is laced with rich spices of pepper and cumin.  My father usually made this dish and we all enjoyed it over fun family conversations, cracking jokes on each other and lots of teasing!  I don't have the handwritten recipe, but I've watched my father make this countless times… it's one of those recipes where you let your senses guide you… and one of those dishes that really doesn't need much tweaking.
MAD SOUTZOUKAKIA
Prep time: 30 minutes – Cooking time: about 1.5 hours – Yields: 6-8 servings
Note: These taste best when made ahead of time… it's best to let the flavors of the soutzoukakia meld for at least 1 hour before serving.
Ingredients
1 lb of ground beef (or ground lamb if you prefer)
3-4 cloves of garlic, minced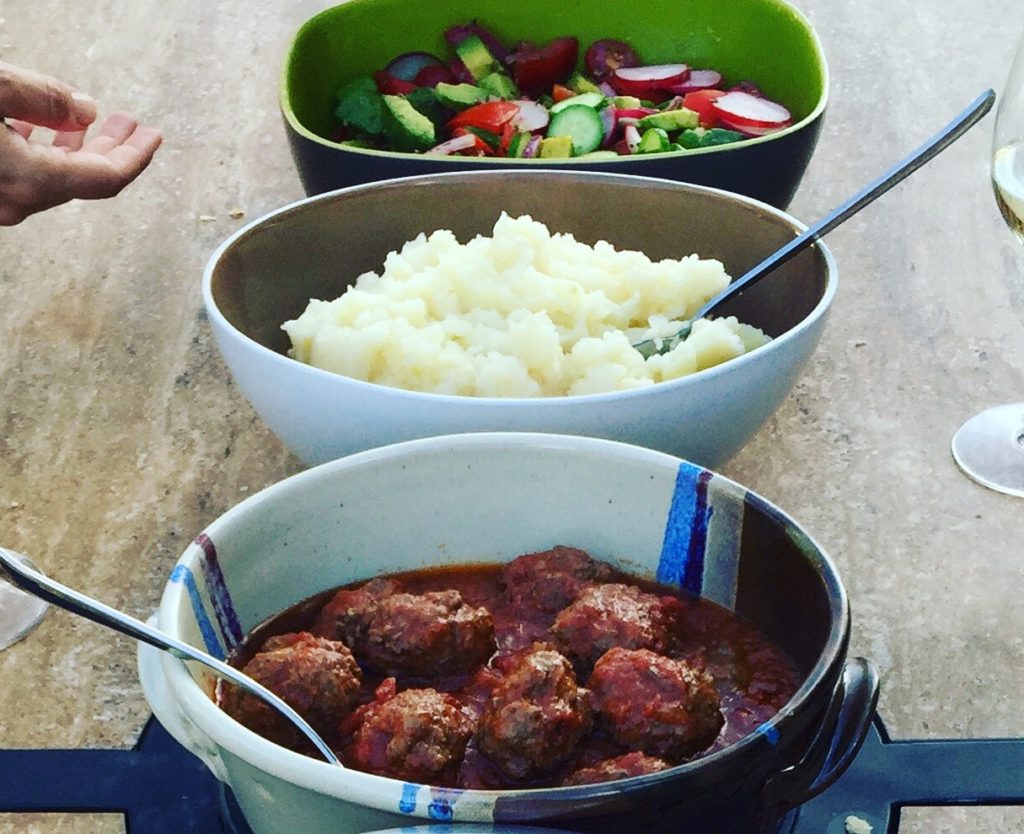 2 medium onion, finely chopped – divided
1 bunch of fresh parsley, finely chopped
1 egg
2 tbsp red wine vinegar – divided
2 tbsp of ground cumin – divided
1/4 cup all-purpose flour
1/4 cup olive oil
1 tbsp butter
32oz can of petite diced tomatoes
Salt/pepper to taste
Directions
In a large bowl, mix by hand the ground beef, egg, 1 tbsp olive oil, 1 tbsp vinegar, parsley, onion, garlic, half the cumin.  Sprinkle salt and pepper and mix until well incorporated.
On a platter with the flour spread out, start forming and laying out the soutzoukakia.  Form about 2-3 tbsp of the meat mixture into oval shaped balls and lightly flour each one.  Set aside.
In a non-stick large saucepan, heat the olive oil on medium high.  With care not get burned, start placing the soutzoukakia in one even layer and sear all sides by turning them once.  Lower the heat if you need to adjust, the soutzoukakia only need to obtain color at this point, they don't need to cook through.  Once seared, take them out and place in a bowl and set aside.  Repeat the process until all the soutzoukakia are seared and out of the saucepan.
The "goodness" left in the pan from the meat drippings and the flour remnants is exactly what you want.  Add the other chopped onion and saute for about 3-4 minutes on medium heat.  Stir in the tomato and add the butter, and more salt and pepper.  Now, add the cumin and stir until well incorporated.
Slowly add the soutzoukakia into the pan with the sauce and try to even them in a layer where they are all covered with sauce.  They don't have to be completely immersed, but need to have some contact with the sauce.  Once the sauce reached a low boil, set heat to medium-low and semi-cover the pot.  Cook for about 45 minutes – carefully stirring occasionally with a wooden spoon.  Taste and adjust the seasoning.  Add the rest of the vinegar and turn off the heat and cover for 15 minutes.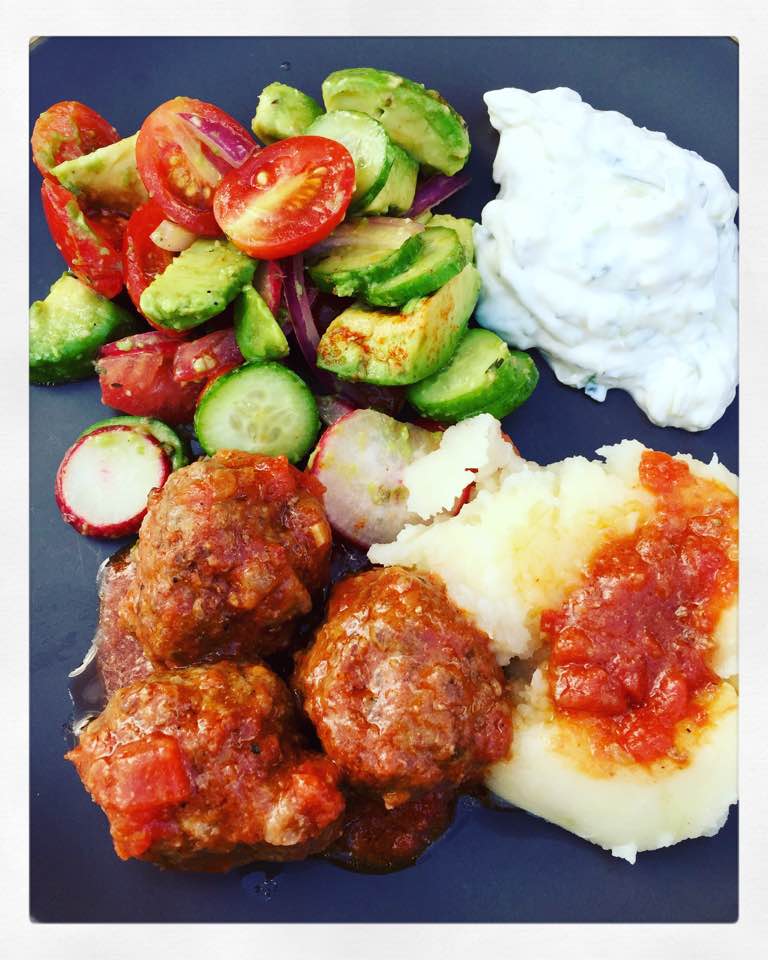 Ideally, you will let the pot rest covered for an hour before serving.  This is best accompanied with tzatziki, mashed potatoes and a seasonal salad.  Serve this plate only to those you love 🙂
Kali orexi!