Not sure how to title this post, but now it does feels like a rainbow chard day.  I woke up happy this morning and excited since today is the annual Christmas tree lighting on Worth Avenue, where Santa parades down the beautifully lit street, passing the holiday decorated windows of Valentino, Cartier and Tiffany's – usually in a Lamborghini.  Last year, he came through in a Rolls.  I guess it depends on the sponsor every year.  Palm Beach is la-la land for sure.  Where else can Santa ride in a sled like that?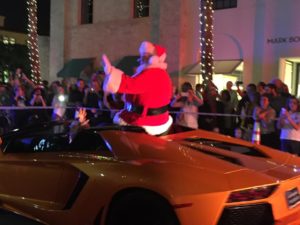 My morning wasn't planned to continue so well though…  Usually, I'll walk to school with Anna, but today we drove the few blocks and since I like to walk her up to the gate, I parked the car for five minutes in an empty parking lot of one of the private client banks that was still closed.  I should note two things: 1) that I was not comfortable doing that, and literally I was only going to be five minutes, and 2) there is zero parking for parents at Anna's school… just a helplessly long drop off line that simply creates a ridiculous traffic pattern.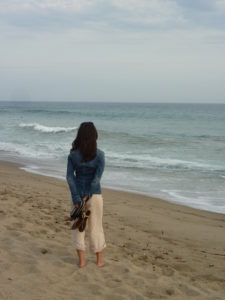 So, as soon as I turned off the engine of my SQ5, this gentleman walks over and I knew what was coming.  He said, "Can I help you?"  Apologetically, I mentioned that I will literally be driving away in a five minutes just so that I can walk my daughter to school.  I'm sure he anticipated that answer, and rudely snapped, and said "Uh, ok and no more."
The interesting part is that this was maybe the third time I've done this in six months.  It's one of those moments I guess when, yes, I've done something I am not technically supposed to, but for heaven's sake, it's five minutes in an empty lot… some people have no empathy!  And not that I'm a wealthy private client, but what if I were, or what if I become?  Would I give my business to an office like this?  Ugh – I took a long morning walk to let it go…
From the posts of the last ten days, I've noticed from your feedback that many of you seem to enjoy not only the recipes but also the stories.  I'm not sure how you liked this one today, hopefully  you will excuse me as it has been one of "those" mornings!  Nonetheless, I do have a really awesome healthy recipe that I wanted to share that always brings a smile on my face when I'm feeling a bit… well, off kilter.
MAD RAINBOW CHARD PIE
Prep time: 20 minutes  Cook time: 30-35 minutes
Ingredients
1 pie crust for a 9″ pie pan – you can make it or I just buy it from the store if I'm in a rush
2 bunches of rainbow chard (or Swiss chard), washed and roughly chopped
2 cloves of garlic, minced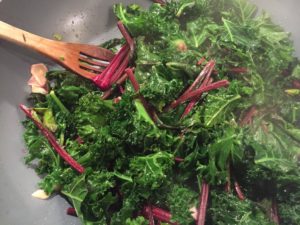 1 bunch of kale or spinach, washed and chopped (remove ribs from kale)
1 medium onion, chopped
1/4 cup chopped chives (optional)
1/4 cup quinoa
2 eggs
3/4 cup of milk
2tbs olive oil
1/2 tsp crushed pepper flakes
Salt and Pepper
1/2 cup shredded Asiago or Romano cheese (you can also use aged cheddar or Parmigiano)
Extra cheese to sprinkle on top
Directions
Preheat the oven to 325F.  Spread the dough in a 9″ pie pan and crimp the sides.  Smooth it out so there are no air bubbles on the bottom or the sides of the pie dish.  You can add pie weights so that the dough doesn't bubble up.  Poke with a form randomly and bake for about 15 minutes.  Take out and set aside to cool.
Make the rainbow chard filling:  make sure all the greens are well washed and chopped accordingly.  Chop the rainbow chard all the way down to stems and keep them.  Only discard the rough kale stems.  On medium heat in a skillet or wok, heat the olive oil and saute the chopped onions, about 4-5 minutes so that they are lightly brown.  Stir in the quinoa, add garlic and pepper flakes and saute for another minute.  Add the chopped chard, stems first, and then the kale or spinach, handful at a time.   Lower the heat to medium, semi cover and cook for about 10-15 minutes, until most of the liquid is absorbed and quinoa starts to "open up."  Add salt and pepper to taste.  Once filling is ready let it rest to cool for about 15 minutes.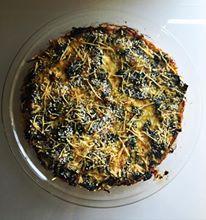 Set the oven to 400F.
While the oven is preheating again, in a bowl, lightly beat the eggs with a fork and add the milk and chopped chives.  Add the 1/2 cup of Asiago cheese (or whatever you are prefer).  Note: you can always use feta… too 🙂
By now, the chard filling should be cooled and you can spread it into the pie pan, making sure it's even.  Don't over fill.  Slowly pour over the egg, milk and cheese mixture and gently fold it in so that it coats the greens.  Sprinkle shredded cheese on top.
Bake for about 30 minutes or until sides are brown and cheese bubbles up.
Enjoy a bite of a rainbow that you make yourself today.  I know I need to smile!