For some reason, today feels like a Friday.  It's the Tuesday before Thanksgiving and there is no more school after today.  Unfortunately, Anna is under the weather with a stomach bug, but at least she is starting to feel better now.  She's spending the break with her father's side of the family in North Carolina, and I'm hoping she'll make some nice memories like she does every year.
Meanwhile, Michael and I will be spending Thanksgiving alone this year.  We have been busy with work (we own a small tax practice), and setting up a fourth remote location in Washington DC.  I've been busy hiring three interns for tax season, so this upcoming break is much needed.  And I'm not cooking a turkey this year either!   I'm trying to relax and save up energy reserves for Christmas when I will really need to have it together as we will be hosting family and friends at the house.
The good news is that the weather is beautiful here in Palm Beach, sunny and no humidity, making it ideal for walks around town.  I've been in a reflective mood lately, and thinking about my family, friends and people who have made a difference in my life and outlook as I grow older.  I've been thinking a lot about the importance of acknowledging feelings, and healing where needed.  I grew up in a culture where feelings were generally not acknowledged and often criticized.  It took a long time to realize that feelings are never wrong or right and need to be worked through and embraced.
I'm not sure about you, but those are the times when a little chocolate can go a long way!  Chocolate has real healing powers and offers such comfort in my view… indulging a little is a great way to give thanks to all the wonderful blessings in my life, including my family and health!  I'm most appreciative of the people who mean the most to me, and those reading this know who they are.  So, here is an awesome recipe for chocolate souffle (in addition to the delicious pies you are baking!) that you can share with your family and friends during Thanksgiving, or any day you feel like giving thanks!  It is a bit tricky to make but it will be so worth it!
MAD CHOCOLATE MOCHA SOUFFLE
Prep time: 25 min  Cooking time:  22 minutes  Yields:  6 servings
You will need oven safe ramekins for this recipe.
Ingredients
2 tablespoons organic butter (also some more for greasing the ramekins)
6 large eggs, separated
1/4 cup granulated sugar (also more for coating the ramekins)
8 ounces 70% dark chocolate, roughly chopped
1 tbsp Kalua or Tia Maria (optional)
Pinch salt
Assorted berries for garnish
Preheat the oven to 350F.
Grease the 6 ramekins and coat them well with granulated sugar.  Try tapping the side of the ramekins while upside down to remove any excess sugar (as you would flour a baking dish).  Cut individual 2 inch strips of aluminum foil, spray them with non-stick, and tape the strips around the ramekins… this will help keep the soufflé in place during the baking process.  Some choose to skip this step, but your dessert will look much better!
Meanwhile, melt the chocolate and butter in a tempered glass bowl over barely simmering water in a double boiler, stirring every so often with a wooden spoon.  Once the chocolate is shiny and melted, add in the coffee liquor, if using.  Go ahead and carefully remove the bowl from the double boiler.  Set aside.  (Note: you can also melt the chocolate with the butter in the microwave on medium high, stirring every 15 seconds until melted.)
In your mixer, beat the egg whites on high with the salt until soft peaks form, about 5 minutes. Very slowly, add the sugar and beating constantly until stiff peaks form (it will look like meringue).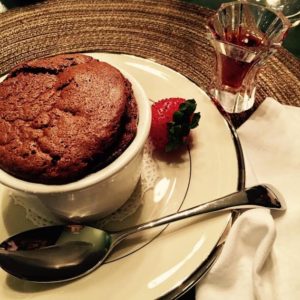 In a separate large bowl, whisk the egg yolks until pale yellow in color.  Slowly add yolks to the melted chocolate mixture.  Once the egg yolks been incorporated with the chocolate mixture, softly pour in the egg whites and fold carefully with a spatula by hand.  The idea is to make it the mixture airy and you don't want to stir and mix too much.
Using a spoon, carefully put the chocolate mixture into the prepared ramekins and arrange them on a baking sheet. Carefully place the ramekins in the middle rack of the oven.
Bake about 22 minutes, until they rise.  It might be a minute before or after.  Don't keep opening the oven before then!  Take out carefully and voila!
These are served immediately and pair really well with fresh berries or crème Anglaise poured in the middle, or some vanilla ice cream.
Other serving suggestions: lightly sweetened whipped cream or a dusting of powdered sugar or cocoa powder.