As I've shared previously, my yiayia Aphrodite and I would bake a lot of Greek Christmas cookies together during the holidays.  I remember she would turn into this strict baker and was very methodical with Greek Christmas cookies, and especially, kourabiedes.  This type of cookie looks like a wedding cookie, and dusted with powdered sugar and has a buttery, nutty flavor.  I loved kourabiedes growing up, and now these are Anna's favorite Christmas cookies.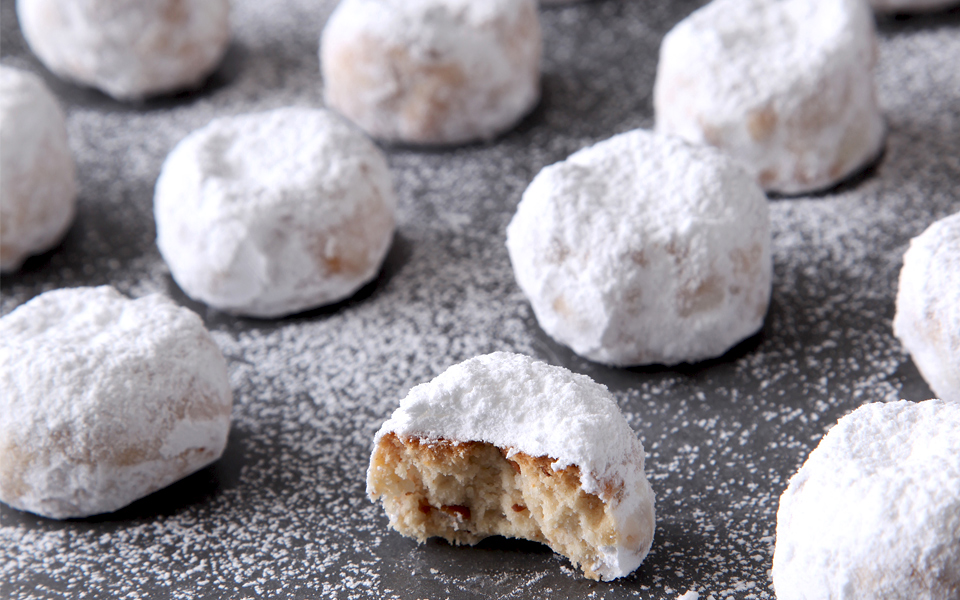 Greek Christmas cookies
A must in every Greek inspired home, kourabiedes often make for animated comparisons between men and women as to who bakes the best.  No one can convince the others as to why their mom's or aunt's cookie is the best, but I have a simple theory about Greek Christmas cookies that I generally don't care to share in public.
The way I see it, food is attached to long term memory, and when the memory is positive and evokes love, family, etc., it tends to taste great, because eating it makes us feel good.  However, if the memory is traumatic, we don't want to have anything to do with that food… for instance, my father absolutely hated olives.  Whether in a salad, or in bread or served with feta, he would not go near them.  When I asked, he said that olives were all they ate during the war, so he had attached horrible memories of the war with eating olives.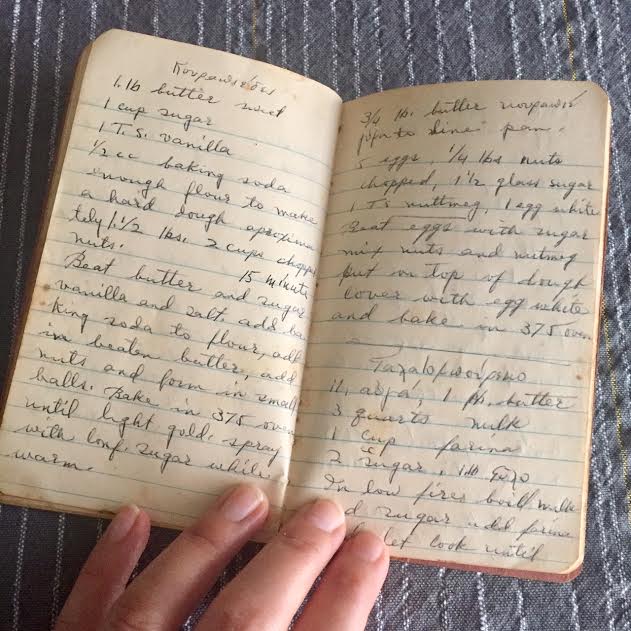 Anyway, enough with the psychology lesson for today!  The recipe below is one that I've tweaked from my yiayia Aphrodite.  So, instead of vanilla extract, I use almond extract.  I use pecans instead of almonds and I bake at 350F not 375F.  The best thing you can do is try out making these for yourself, and see what you like or what you would improve upon.  And of course, your cookie with end up being the talking point for your kids one day when the topic of kourabiedes is bought up.  Happy baking!
MAD HOLIDAY KOURABIEDES
Prep Time:
35-40 Minutes –
Cook Time:
15 Minutes per batch –
Yields:
About 45-50
cookies
Ingredients
5-6 cups of all purpose flour (you can opt for whole wheat)

1 lb.

unsalted butter (softened to room temperature)

1 1/2 cups

chopped pecans, lightly toasted  (you can use almonds or walnuts)

1 large

egg

1/4 tsp baking soda

1/2 cup

powdered sugar

1 tbsp almond extract
Directions
Preheat oven to 350 degrees.
Prepare two cookie sheets lined with parchment paper for the batches that will go into the oven (middle rack)
In a stand-up mixer beat the softened butter alone on medium high speed for 15-20 minutes.  It is really important for the butter to be softened at room temperature and not in the microwave.
Once butter is ready, add the egg until incorporated.  Lower the speed to medium and add the almond extract.
In a separate bowl, it's best if you sift the confectioner's sugar.  Slowly add with a spoon into the butter mixture and beat for another 5-8 minutes on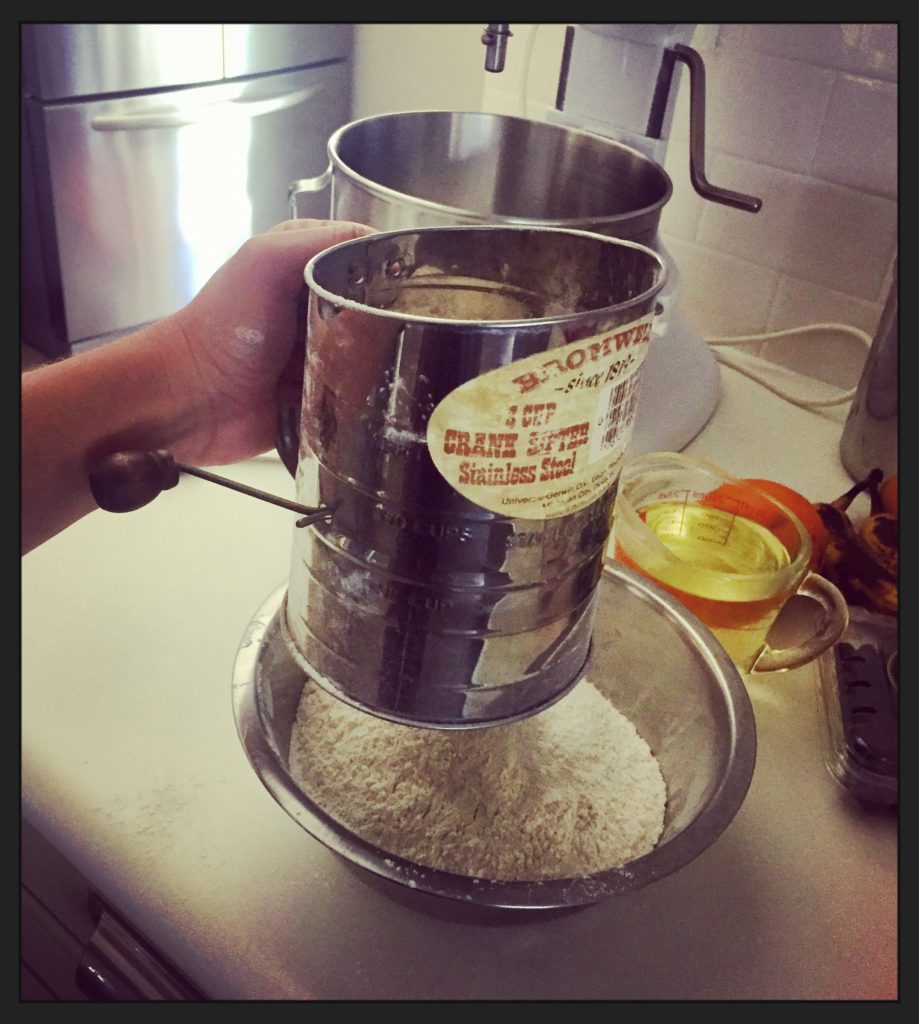 medium.
Meanwhile, you will have sifted the flour, baking sofa and salt together in a another bowl.  Take care as you do this: on low speed, add the flour mixture into the butter mixture with a large spoon a little bit at a time until all ingredients are completely blended together.   Should the dough be too wet and sticky, add 1/4 cup flour.  You should be able to form the dough, that's the consistency you want.
Stir in the pecans (or whatever nuts you are using).
A note on toasting:  you don't have to toast the pecans, it's a matter of personal taste!  Just make sure you don't burn them… with toasting, it literally takes  a second to go from toasting aroma, to a burnt smell that will linger in your kitchen!
The cookies won't rise much, so you can place them about an inch or so apart.  Form about 2 tablespoons or so of dough into circles (you can shape into crescents if you prefer) and lay out of the sheet.
Bake for 15-17 minutes until the color is light gold.
Allow the cookies to cool on a rack for half hour and cover with powdered sugar.  Once completely cooked, dust with more powdered sugar!  These taste best when served in great company 🙂