Now that your kourabiedes are baked, it's time to make the other Greek holiday favorite, honey-dipped melomakarona.  There are plenty of recipes out there for this Greek cookie, and I remember growing up being forced to eat them in every house we visited.  I'll be honest – this is not my favorite holiday treat… mainly because getting the melomakarona dipped in just the right amount of honey syrup is a hit or miss process.
My mom liked her melomakarona very syrupy.  My brother likes them with just enough syrup, and Michael prefers them with the least amount of syrup.  Anna will pass on the melomakarona all together, and go for kourabiedes instead.  I am still stuck baking them anyway and end up making variations of the same batch.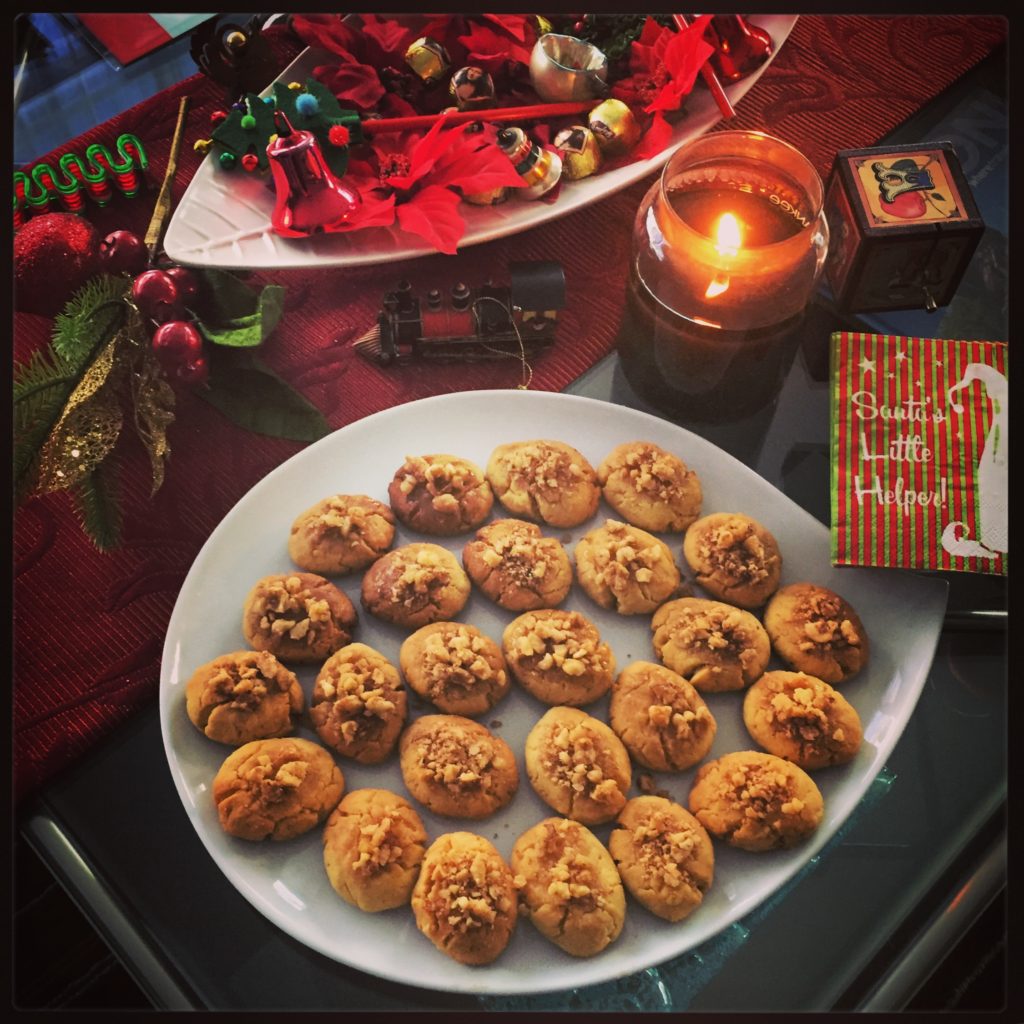 I hope your preparations are going well for the holidays, whether you are hosting at home, traveling to family or visiting friends.  I'm finished with all my grocery shopping and outlined a timeline of what to make leading up to Christmas day.  The mad cafe is beautifully decorated and the tree is holding up nicely in the humid 80 degree weather we've been having this week.  I'm hoping it will cool off a little in the next few days, so that we can enjoy a holiday stroll on Worth Ave.
My favorite part of this week is baking and enjoying the lovely smells in the house.  There's something so comforting and rewarding about making something from scratch.  Anyway, I like this rmelomakarona ecipe because it's flavorful, and you can easily adjust how much syrup you want to add on yours.  Just like kourabiedes, you can bake melomakarona up to a week before Christmas and they'll keep just fine covered in room temperature.
MAD MELOS
Prep time: 25 minutes – Cook time: 30 minutes – Yields: about 2 dozen cookies
Ingredients
4 1/4 cups of all purpose flour
1 tsp baking powder
1/2 tsp fresh baking soda
1/2 cup of sugar
3/4 extra virgin olive oil
1/2 stick of unsalted butter, room temperature
1/2 cup of orange juice (try to use freshly squeezed, exclude the pulp)
2 tbsp orange zest
2 tbsp vanilla extract
3 tbsp cognac or brandy (I use Metaxa)
Nut mixture:  1 cup pecans, finely chopped, 1/2 tsp ground cloves, 2 tbsp of ground cinnamon
Syrup:  1 cup water, 1 cup sugar, 1 cup good honey, 1 cinnamon stick
Directions
Preheat the oven at 350F
In a bowl, sift your the dry ingredients: flour, baking powder, baking soda and set aside.
In a mixing bowl with attachment, cream the butter, sugar on medium high for 3-4 minutes.  Lower to medium and drizzle the oil.  Add the orange juice, orange zest, vanilla and brandy and beat together well.
Pour the wet mixture in the bowl with the dry ingredients.  Using your hands, gently form the dough.  It will be a bit sticky.  Don't knead the dough, just enough until the dry and wet ingredients are incorporated.
On a parchment paper lined baking sheet, start forming the melomakarona with about 1 tbsp of dough into ovals.  Ovals are the traditional shape, but I've seen round shapes, too.  The dough won't expand much in the oven, so you can leave about an inch between cookies on the baking sheet.
Using the tines of a fork, cross-stitch the top of the melomakarona.  Pierce the dough enough but not all the way.  The purpose of this is for the honey syrup to permeate and to hold the nut mixture.
Bake the melomakarona for about 25 minutes, until golden brown.
Meanwhile, you'll want to prepare the nut mixture.  Place all the ingredients above in a bowl, mix well with a wooden spoon and set aside.  You can use walnuts if you don't have pecans.
Make the syrup:  Bring 1 cup of water, 1 cup of honey, 1 cup of sugar and stir until the sugar has dissolved.  Add a cinnamon stick and simmer for a few minutes.  Try to take off the foam that will form with a spoon and discard.  Turn off the heat and set aside.
When the melomakarona are ready, while they are hot, use a large spoon and start pouring the syrup on top of the cookies.  This is where your taste guides you in terms of how much syrup to add.  I like mine with not too much syrup, so I add a tablespoon or so on top of the cookies.  Flip the cookies and pour some more syrup.  Let them cool and then flip them back and add the nut mixture over each one.  Place on a festive platter!
Happy baking!!!