Most of us have memories of home baking growing up.  We fondly remember the delicious smells of cookies, pies and cakes in the oven as we impatiently wait for them to cool enough to taste.  Cookies always taste better when cooling on a rack for some reason.  Especially when December rolls in those memories come alive year after year.
In our home growing up, my mom would bake chocolate chip cookies, which were generally unheard of in Greece during my childhood.  When she really felt motivated, she would make fudge.  I can still taste the decadence on the wooden spoon when she finished spreading it in the pan.  My friends had no clue what fudge was, or what marshmallows, or Fluff was… so it was amazing for me to watch them taste and discover new flavors.  They  loved coming over to our house during the holidays and were curious about how we celebrated an American Christmas.   That's a whole other blog post that I'll share with you soon.
There's just something really special about the holidays that makes you crave comfort and great baking!  While we experienced a lot of American treats growing up in Athens, we also enjoyed the traditional baking, which I really miss, and recreate, this time of year.  From baklava and diples, to melomakarona and kourabiedes, there are so many variations and rituals observed and no doubt it's different in each family.
When my brother moved to Princeton for school in the mid-nineties, we started spending the holiday break in Palm Beach, at my grandmother's house, which is now ours.  My yiayia, Aphrodite, and I would spend hours and hours just talking.  We not only shared the same name, but we were kindred spirits.  I loved listening to stories of her childhood in Karpathos, her dreams, her ambitions and how she achieved so much in her 94 years, until she passed away in 2004.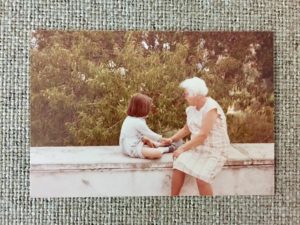 Yiayia and I became even closer when I moved here to finish my undergrad studies, and I remember on my 21st birthday she mailed a card to my dorm in New York that read, "Happy birthday. You will reach to higher heights that I could not even dream were possible."  It's written in Greek, so it probably doesn't translate as well… the idea was that where she left off is where she hoped I will continue.  So, I've kept her words close to my heart since then, and it motivates me constantly to improve, work smart and hard.  She would say that we are in this life to always learn, share and grow and not to show off and impress.
Circling back to the holidays, yiayia and I would often bake together.  She was so methodical in the process of baking anything, especially holid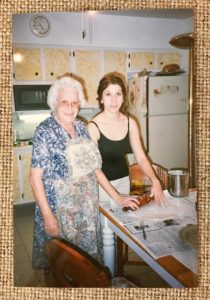 ay cookies, like melomakarona (a honey dipped cookie) and kourabiedes (almond butter cookie with powder sugar – looks like a wedding cookie).  But, those holiday recipes are way overdone and I'm sure you can find plenty of them out there that you'll enjoy.
Instead, I wanted to share with you a recipe for Karpathian spinach pie "xortopita" which would typically be baked this time of year in the old days since it is the peak of olive picking season.  The pies are individual, vegan (Lenten for the Christmas fast), and these little bites of hearty heaven date back since the days of my great-great grandparents, who would travel on foot or by donkey to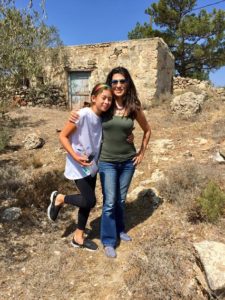 the neighboring village of Stes and stay there for weeks during olive picking season.  They would stay in their stavlo, a tiny home with one room made with rocks.  And since they worked all day, they needed something that traveled well that would last for a few days, so dairy wouldn't cut it back then with no electricity.
KARPATHIAN SPINACH PIE
Warning: this process is time consuming!  Prep time: plan for two hours between preparing and baking, especially for a first time baking these.
Cook time: About 20 minutes per batch.  Yields:  16-18 individual pies
Ingredients
For the dough:
4 cups of all purpose flour (you can try whole wheat flour)
3/4 cup extra virgin olive oil
3/4 cup water
pinch of salt
For the filling:
While I prefer using fresh greens, you can easily use organic frozen spinach, collard greens and kale for this.  Just make sure you have thawed the packages before cooking.
6 regular bags of fresh spinach, or 2 packages frozen
2 regular bags of collard greens or 1 frozen package
2 regular bags of kale, or 1 frozen package
2 large onions, finely chopped
1 bunch of scallions, chopped
1 punch of fresh dill, chopped
1/3 cup of original rice (rinsed and strained)
2 tbsp ground cumin
1 cube of vegetable stock
Salt and pepper to taste
Preheat the over to 350F.  Prepare two baking sheets lined with parchment paper.
Set the mixer with the dough blade or mix by hand in a large bowl the flour (sifted), salt, olive oil, and water.  Work the dough until it forms a soft ball.  Cover with a towel and let the dough rest for about an hour.  Note: the dough will not rise.  Divide the dough in equal parts, about 16-18 balls.
Meanwhile, while dough is resting, make the filling: in a large saucepan heat 2 tbsp olive oil and sweat the chopped onions and scallions over medium high heat, about 2-3 minutes.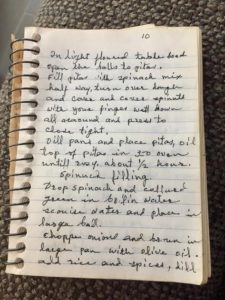 Add rice and saute for about 2-3 minutes until well coated with the oil.  Add the greens, a handful at time if using fresh, they will quickly wilt in the pan (if using frozen, add all together).  Mix together and add the veggie cube and about 1 cup of water and bring to a boil.  Lower the heat to medium and add the dill, cumin, salt and pepper.  Cook covered for about 20 minutes, stirring frequently.  Adjust the seasoning as needed and strain mixture and drain and best as you can.  The less liquid in the filling, the better!
On a lightly floured surface, use a rolling pin to roll out each dough ball to the size you prefer.  Have a small bowl of water handy as you will need it to fold over the dough and crimp it.  I typically use a bowl to cut over the dough and form a circle.  Spoon enough filling on one half of the rolled out dough circle.  Don't overstuff!  Use your finger to line water on the edge of the circle, and fold over the other half of the dough to close the pie.  Use a fork to crimp.  Each pie has to be completely shut of it will open up during baking.
Continue the process until you've filled the baking sheet.  Allow at least an inch between pies allowing them space to bake.  Generously drizzle olive oil on top of the pies in the baking sheet before putting them in the over.  I like to sprinkle a little bit of flaky salt on top.  Bake for about 25-30 minutes.  They will not really brown, and will seem as if they aren't ready, but they are!!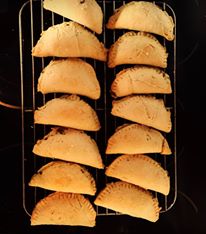 Take out and carefully place on a rack to cool for about an hour.  Repeat the process until the dough is finished.  If you have leftover filling you can freeze it, or enjoy it on its own!
The pies can be stores at a cool place for a day or two or just go ahead and refrigerate them.  Best served warm!!!  Enjoy 🙂