It's official now, we're in tax season mode!  Michael is in Boston through the end of April since most of our work this time of year comes out of that location, and I am here taking care of… well, everything else.  My friends ask me how I feel every year when January rolls around, and now it's been the fifth tax season I know what to say:  at least it is familiar at this point!
I am aware of what will happen over the next three months.  The stress will gradually mount, endlessly testing my limits.  Our workload will quickly become overloaded only to seem unmanageable, until we figure out how to manage it somehow.  And I'll get used to cooking for two, or three – or one – depending on the day. It's likely that I'll have even less time this season, but I'm determined to stay healthy and fit regardless of the piling workload.
And April will come before we know it.  Again.  Tax season is so compressed.  It sometimes seems like a dream that will never end until you wake up suddenly and realize you have your life back!
But, as with most things, there are definite upsides.  It's awesome to measure the growth and success, and helping people plan their tax strategy soundly is very satisfying.   It's amazing how we are able to make a difference in people's lives when we help them with something as mundane and boring as taxes.  And the really good news is that there is light at the end of the tunnel… one deadline wraps up, and then the next one toes the line.
Basically, it is what it is.
Acceptance is a big life lesson and one I still resist from time to time.  I think it's a personality trait I carry since I was little, but I'm improving and learning to embrace things as they come.  There are times when I feel so confused, asking questions actually confuses me more.  Or there are times when I really want an answer, and I won't get it… ever.  And that is frustrating when trying to gain insight.  So, in those situations, the only sensible answer is to accept – and learn to leave some things alone.  That's always been difficult for me because it's my nature to feel and explore things, and I'm just endlessly curious.
With time I am learning that things are what they are in life, and I just have to stop asking questions when there is no purpose or resolution.  Gosh, it's still so hard to go against yourself, but in the end, accepting things can be quite liberating!  Or it might be stupid.  I'm not sure yet.
After yesterday, though, I'm glad I'm not in Sean Spicer's shoes having to talk to the press and outright lie and sound like a dictator.  It feels like we're not in 2017, but 1984.  I need to re-read the book.. though Orwell's Animal Farm was my favorite.
Anyway, since today was a Sunday I cooked for myself… creating an impromptu pasta dish was simple and delicious!  It's amazing what you can do with a few simple ingredients.  I've adapted the recipe for 4 servings. Happy cooking 🙂
MAD IMPROMPTU PASTA WITH VEGGIES
Prep time: 15 minutes  Cooking time: 20 minutes Yields: 4 servings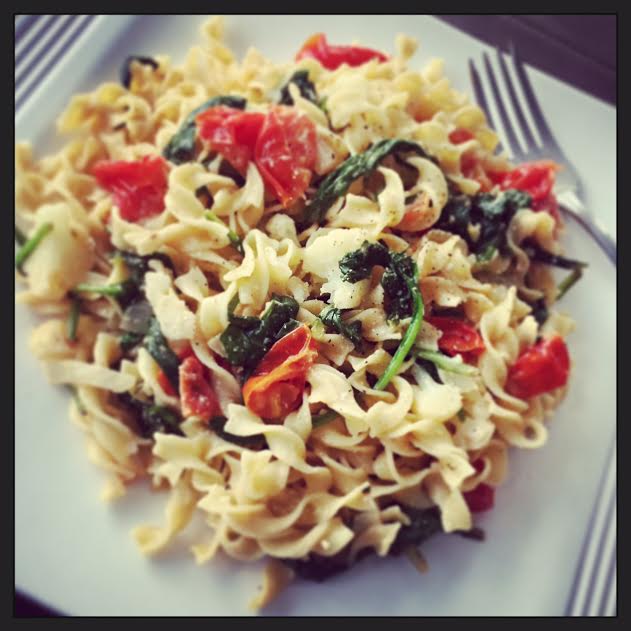 Ingredients
1 package of egg noodles (or any pasta you like)
1 small package grape tomatoes, cut in half
1 small sweet onion, finely chopped
2 cloves of garlic, minced
2 handfuls of fresh spinach, washed and roughly chopped
1/2 head of cauliflower, chopped
1 tbsp of mascarpone cheese (or 1 tbsp butter)
4 oz good feta cheese, crumbled
Optional: 1/3 cup of white wine, Pinot Grigio or Sauvignon Blanc
2 tbsp olive oil
1/2 tsp crushed pepper flakes
Salt and pepper to taste
Directions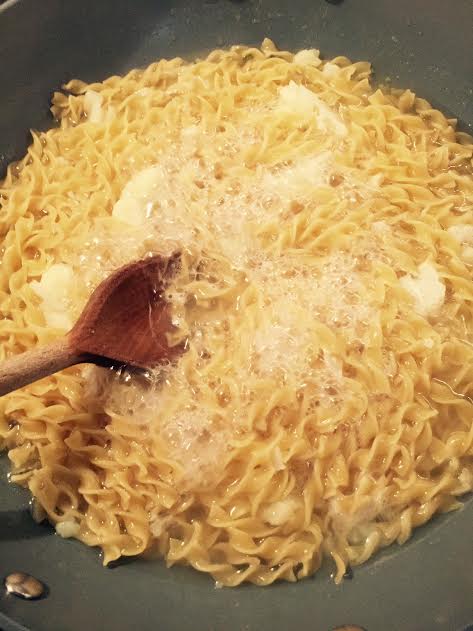 In a large pot, bring to a boil 6-8 cups of water with a dash of olive oil and salt.  Toss in the pasta and the cauliflower.  Boil uncovered until both are tender, about 7 minutes (al dente), or however long for your preference.  Drain and set aside.
In a wok or a large skillet, heat the olive oil and sweat the onions, about 3-5 minutes.  Add the grape tomatoes and garlic, stir for about 2 minutes.  Stir in the spinach, a handful at a time.  The greens will wilt quickly.
Add the crushed pepper flakes, salt and pepper.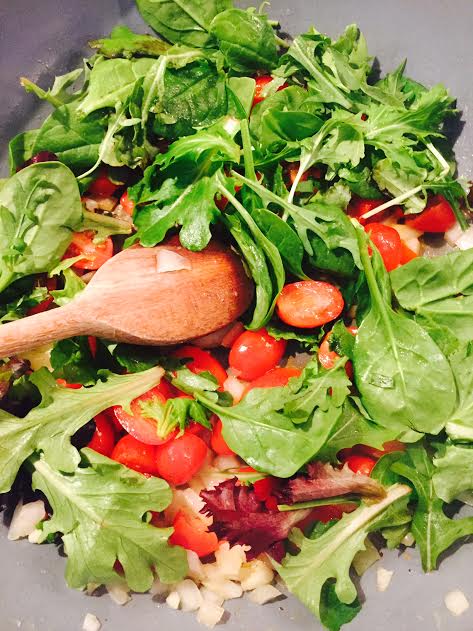 Toss in the crumbled feta and mascarpone (or butter).  Pour in the wine, if using, and cook the sauce on medium for 2-3 minutes.  Cook on low until sauce thickens slightly.
Mix the pasta with the sauce and serve immediately.
Whether eating on your own today, like me, or with company remember that pasta is made for sharing 🙂