Motivation Monday is surely setting the tone of the week for me!  Anna is already back to school and we are catching up with our tax clients, invoicing, and preparing for the upcoming tax season.  It's my seventh tax season since I met Michael, and it will be the fourth one working officially as part of the firm.  While it is a stressful three months on mostly every level, it is very rewarding on mostly every level, too.  We get the question all the time, "how can you work with your spouse?"  Really, the answer is that our strengths lie in vastly different areas… if I were a CPA, for instance, I doubt we would be able to be in the same room together, much less own and operate a firm!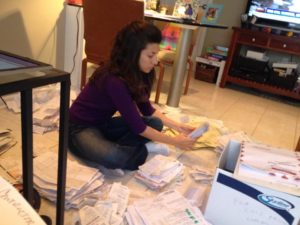 Since my background is in marketing strategy and communications, we have been able to work efficiently and grow our business year after year.  I guess we like working together, too.  There's an unmistakable feeling of accomplishment at the end of each tax season and knowing that I did my part to make it a success is pretty neat.
So, with the holidays rolling around so quickly, I'm reminded that tax season is basically around the corner.  It still feels like we just wrapped up the last one, and now we're starting up again.  Part of the reason I started the mad cafe blog is to have a creative outlet that I'm clearly missing with all the tax business operations!  I was also inspired because eating well during tax season is truly a challenge, and implementing many of these recipes, whether on meatless Mondays or not, has helped us stay healthy and focused!
Let's pay homage to meatless Mondays with these gorgeous zucchini patties.  Easy to make, I first tried these about a year ago and they taste awesome.  Perfect for a healthy lunch or brunch, or a snack.  Enjoy!
MEATLESS MONDAYS: MAD ZUCCHINI PATTIES
Prep time: 15-20 minutes  –  Cook time: about 25 minutes  – Yields: 6-8 patties
2 large zucchini, shredded
1 egg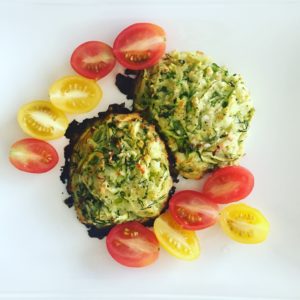 2 tbsp hemp seeds
1/2 cup rolled oats
1 tbsp toasted sesame seeds
1 tbsp olive oil
1 cup bread crumbs – divided
Splash of red wine vinegar
2 scallions, chopped
2 tbsp of dill, chopped
2 oz of crumbled feta
1/2 tsp crushed chili pepper flakes
Salt and pepper to taste
Directions
Preheat the oven to 375F.  Line a cookie sheet and lightly grease with olive oil and set aside.
Squeeze the liquid from the shredded zucchini with paper towels.  The less liquid, the better your patties will turn out.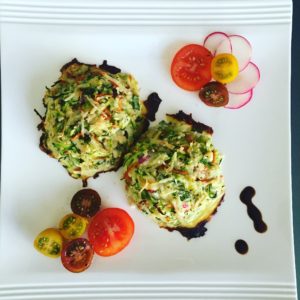 In a large mixing bowl add the zucchini and all of the above ingredients together, EXCEPT for half the bread crumbs.  Mix well with your hands until everything is well incorporated.  Form into patties and dredge lightly each side with the rest of the bread crumbs and place onto the baking sheet – about an inch apart.  Drizzle with olive oil and bake for about 22-25 minutes or until the patties turn very lightly brown.  Let cool for a few minutes.
Serve warm.  By the way, this dish goes really well with the mad cafe tzatziki!