The countdown to tax day is officially on.  We are hardly sleeping well and just working and working non-stop – or what feels like non-stop.  One more week of this, and then the next wave of invoicing hundreds of clients will begin, as well as seeing Anna through the end of her 4th grade year, followed by a hands-on renovation project of one of our units upstairs.
I was thinking last night before falling asleep, which was well past midnight, how Easter was always my favorite holiday growing up in Greece.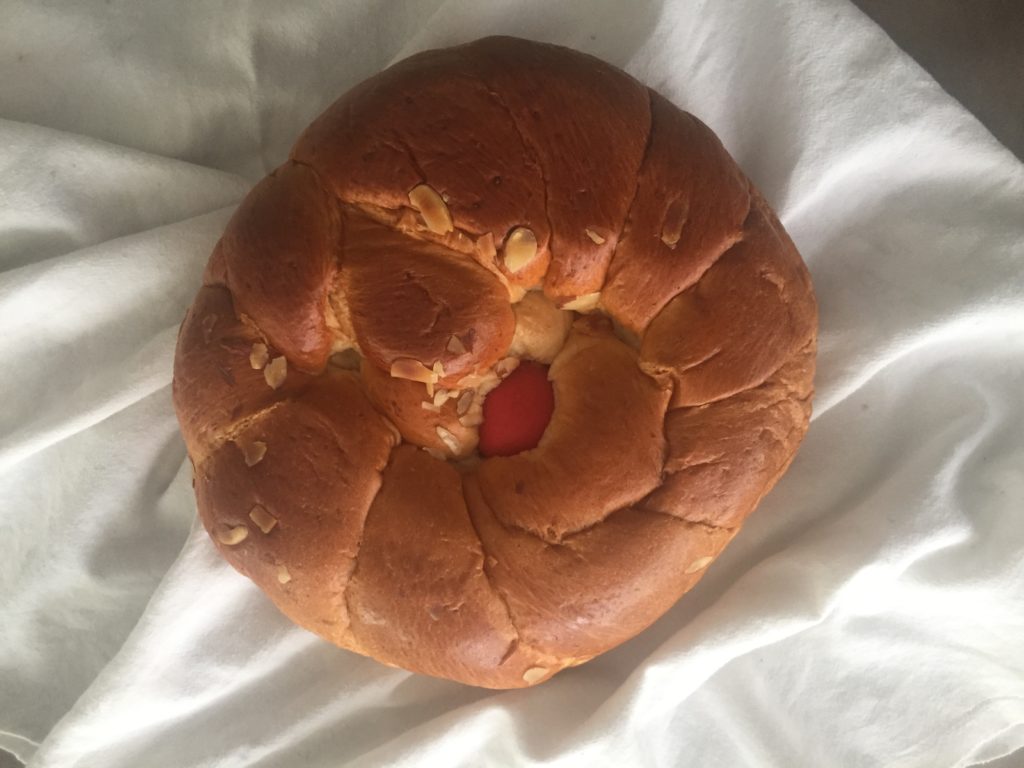 We had two full weeks off from school and work, and things would just slow down around us.  I'm not religious, so for me personally it wasn't so much about going to church and following strict rituals, but I was enamored with the cultural traditions and learned to look forward to them year after year.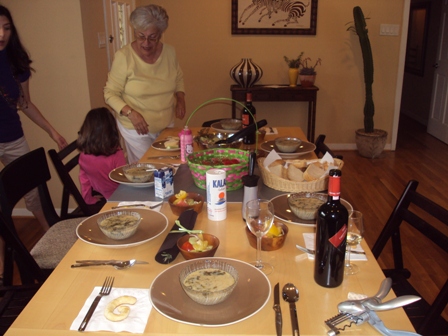 So, traditionally, this week is Holy Week for those observing Greek Orthodox Easter and it's the last week of Lent, when mostly everyone fasts from meat and dairy.  I so enjoyed the tradition of eating so simply for a whole week, building up the anticipation of devouring roasted lamb with my family on Easter Sunday.  It forced us to be creative with food for a week, trying to think up many delicious recipes… except for my mom's idea of boiled pasta with a jar of plain tomato sauce – yuck!
Just as we would get into a rhythm for Holy Week, Good Friday would come along, really restricting things!  On that day, we would also fast from oil.  Some people fast from water, too, which we never did, but there are various levels of fasting extremes practiced on this day.  And there were a lot of superstitions, too!  You were not supposed to take a bath, wash your hair or wear anything colorful on Good Friday, for obvious reasons.  I remember there was one Good Friday when I was in high school, when I did wash my hair and felt fine about it, so it really depends on each person's convictions.  But, I still enjoyed the church service on that particular day, the chanting is amazing and the entire church lights up with candles making it truly magical to experience, regardless or not if you're religious.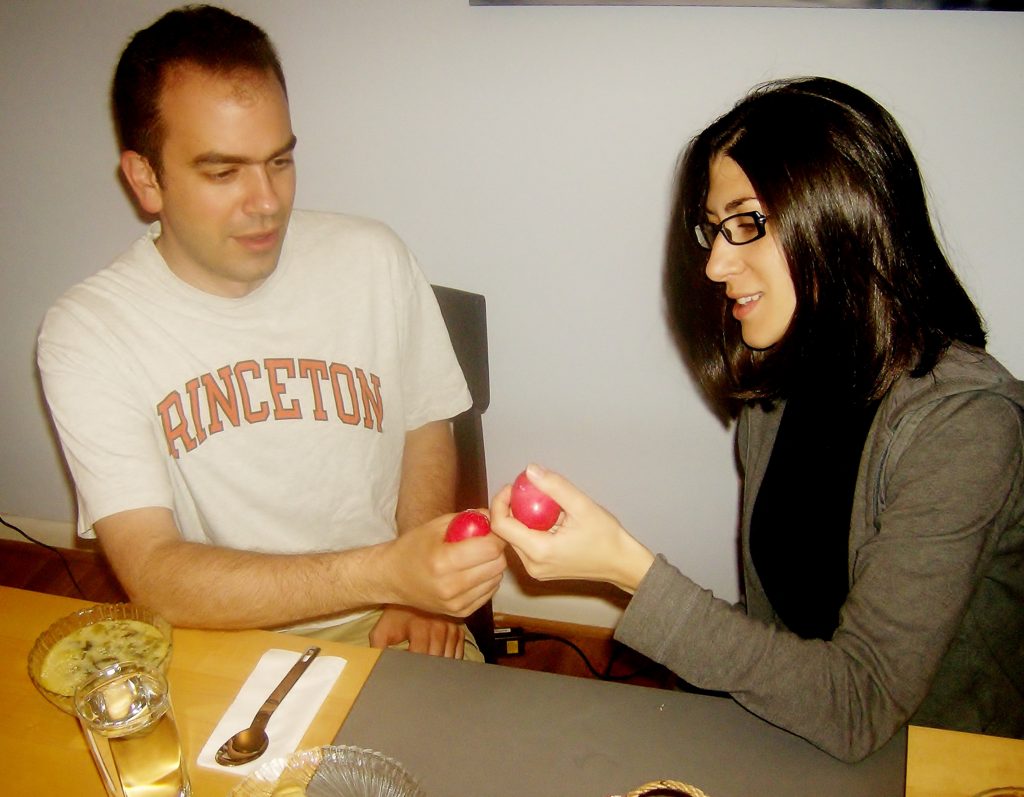 On Holy Thursday, we would traditionally dye the eggs red, and there are tons of recipes out there on how to proportion the dye and the vinegar in such a way, so that the eggs really turn deep red, vs. pink.  That was always very funny for me!  We would prepare the eggs, shine them with a little bit of olive oil and crack them on Easter Sunday… that's also tons of fun, especially if you choose a solid egg and crack everybody's!
After the Good Friday evening service, the four of us would come home and my dad without saying a word to anyone would fry up the golden delicious potatoes.  He would justify that by saying, "it's ok, the first resurrection happened!"  So, we'd break the fast from olive oil at least, which was a very delicious way to do so.  I remember he did that every year and it was funny every time.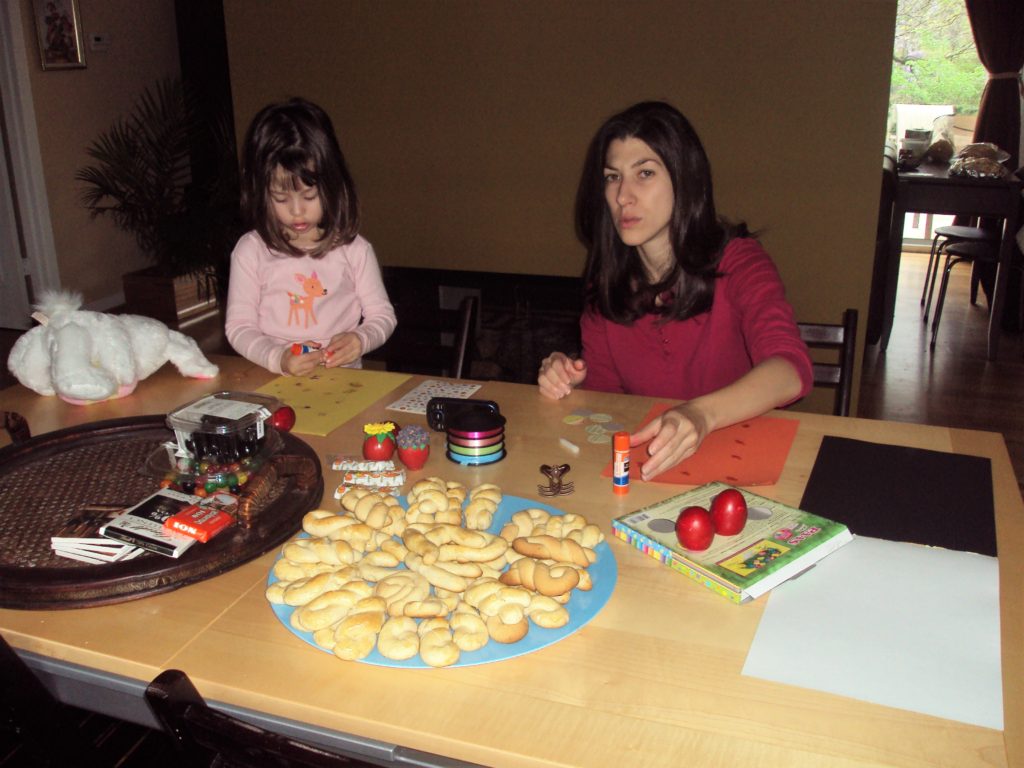 On Holy Saturday, the day before Easter Sunday, was basically a day of preparation.  This meant, making tsourekia (a sweet type of bread, similar to challah bread), baking Easter cookies, while the men would prepare the lamb to roast on the spit the next day.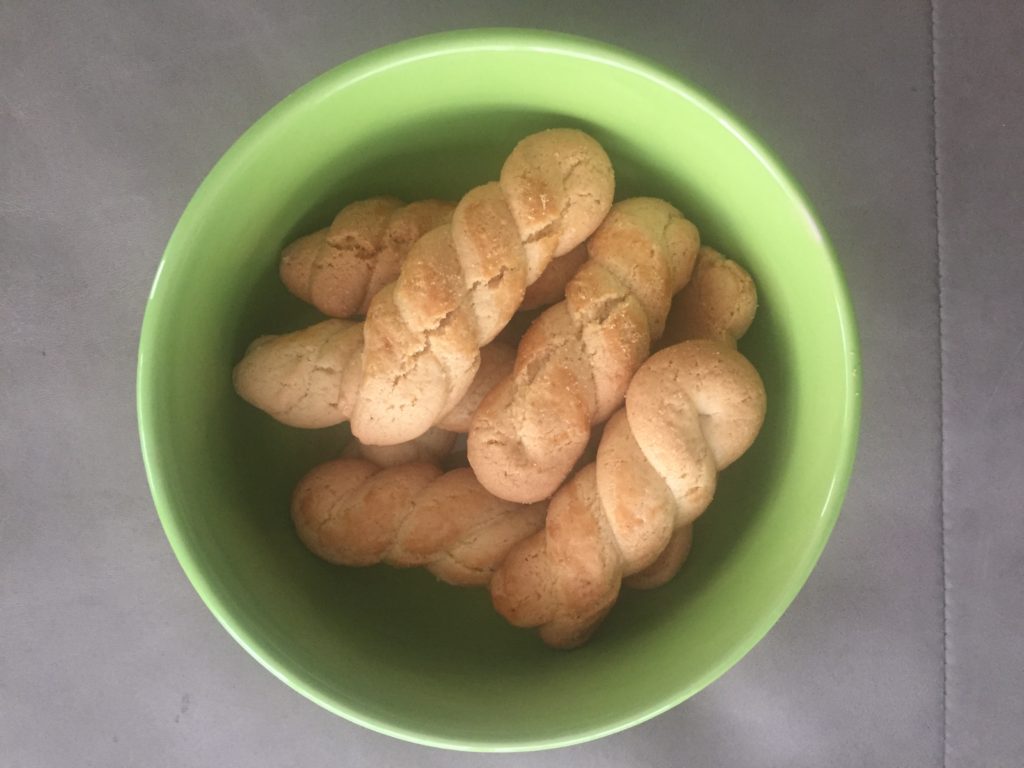 This involved using every part of the animal, which I personally appreciate, as much as disgusts many people.  So, all the organs were removed, cleaned with vinegar and would be used in a soup for that night or for frying into a meze.
While I loved watching my aunt bake, and setting the table and preparing the midnight soup (magiritsa), I was definitely curious as to what "the men" were doing.  So, one year I think I was about 15, my cousin Mary's husband, George (they are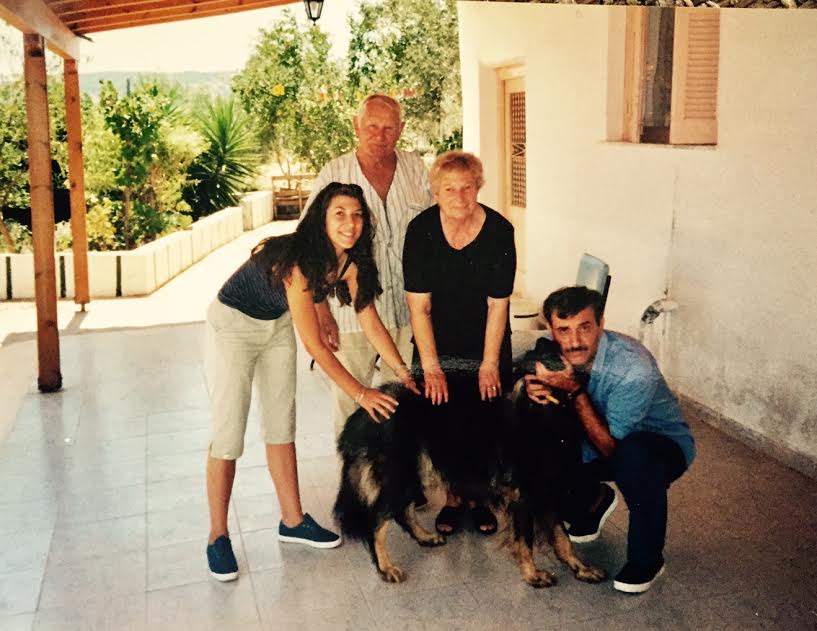 both like my second set of parents, since they are much older), wanted to make kokoretsi from scratch.  Now, that's a Didi challenge!  Kokoretsi generally consists of lamb or goat intestines, tightly wrapped around seasoned offal, including heart, lungs, sweetbreads, spleen, kidneys, etc.  If you're disgusted by now, feel free to go read something else, because my mouth is watering right now just thinking about it!  Specifically, the intestines of suckling lambs are preferred.
I really wanted to learn how to make kokoretsi and no one was helping George, so I volunteered.  Instead of pushing me away, he showed my how to clean the intestines, which was a fascinating experience.  You take a long metal spit and you flip each one inside out… which is a very delicate process and you really need to be careful.  Some people don't turn the intestines inside out and that's how food poisoning happens.  Anyway, once that's done, we make a bath of vinegar and warm water and rinse them well.  Of course you see little parts of green residue washing away, which is no doubt from the grass that the animal was feeding on.  It was remarkable to experience how important it is to appreciate the animal… something we definitely don't do here in the States.
Anyway, after the vinegar bath, the next step was to season the offal with lots of oregano, salt and pepper.  We'd pass everything through onto large metal skewers and then very carefully wrap the clean intestines over the offal, nice and easy until complete.  We'd tie the ends so the kokoretsi would stay in place.  These typically grill outdoors next to the lamb or goat on Easter Sunday and it's unbelievably good.  Yes, it's high in cholesterol, but remember this was done once a year.  Before you complain with any disgust, just think about all the burgers you ate this past week.
I am grumpy today.  I'm chasing clients to e-file their returns and not paying any attention that it's even Easter.  Far too absorbed with tax season, it's also Anna's FSA exams at school this week, further taking away my focus.  We're barely fasting, if you consider my forgetting to eat lunch since I'm so busy these days.  My family is totally scattered this year, which is such a sharp contrast to how things were growing up.  So, I'm finding some comfort sharing these stories.  I hope one day I'll get to celebrate Easter again in Greece and show Anna how it's really done!  Though I highly doubt she'll have any interest in making kokoretsi, but I guess there's always hope!