I hope most of you are off in observation of the holiday, whether catching up on reading, chores, or just enjoying the day.  It's another absolutely dreamy day here in Palm Beach, with a light breeze coming from the east and low humidity.  A fun day to talk a long walk, but we actually have tax work to do first before heading out to enjoy the outdoors.  On days like this, I like to read, clean and ease into the day – avoiding phone calls as much as possible.
I spoke to Anna this morning, who is with her father this weekend and she's been productive too!  Per her request, we always set a specific time for our morning and evening call, and today it was 8:21am.  So, we chatted about her homework, Chinese work, the new cookbook she bought yesterday, the new math game they're all into in school now, and how she's going to handle swim practice now she has lightly sprained her ankle.  I don't remember doing so much at her age.
My favorite part was when we talked about the South Florida Fair, which takes place here every January.  We've made it a tradition in our family!  I just love going to fairs and tasting the food, watching the shows and people's reactions — it's fascinating!  Aside from the pig race, they've added a dog trick show this year and it will be so much fun to see.  The dogs are rescued and trained, and rescuing animals is one of fair's highlights every year.  I hope they will have the vintage candy store again this year!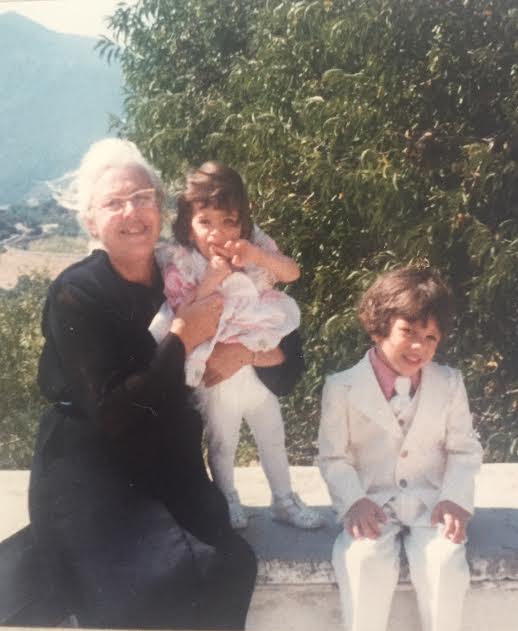 And after I spoke to Anna and did some reading, I wondered what story I could share on the blog today.  Too many stories in my head, so I thought I would sweep the floor for some inspiration.  I always prefer a regular broom to vacuuming the floor, and it's a cathartic experience for me.  Yes, it's actually not only constructive, but very soothing to sweep away thoughts while revealing a clean surface.  I also rather lift the rugs and sweep underneath whenever possible, than just vacuum the top.
So, here's a question: how often do you lift the rug and sweep the dust?

I've been doing that a lot lately.  It takes a lot of emotional strength and resilience and it isn't easy, because as you reflect, you really do confront yourself.  My grandmother and I had that in common.  We shared a love for thinking, with a purpose, deeply and with meaning.  We both needed time on our own to center and reflect quietly.
I can still picture her sitting here in the living room (where I'm now writing away) with a very pensive look, her right hand placed on her face and her eyes fixed looking out the window.  You might think she was over analyzing things or overthinking the past, but her thoughts were specific and crystal clear.  She had the ability to zero in and focus with razor sharp precision, which helped her never feel stuck.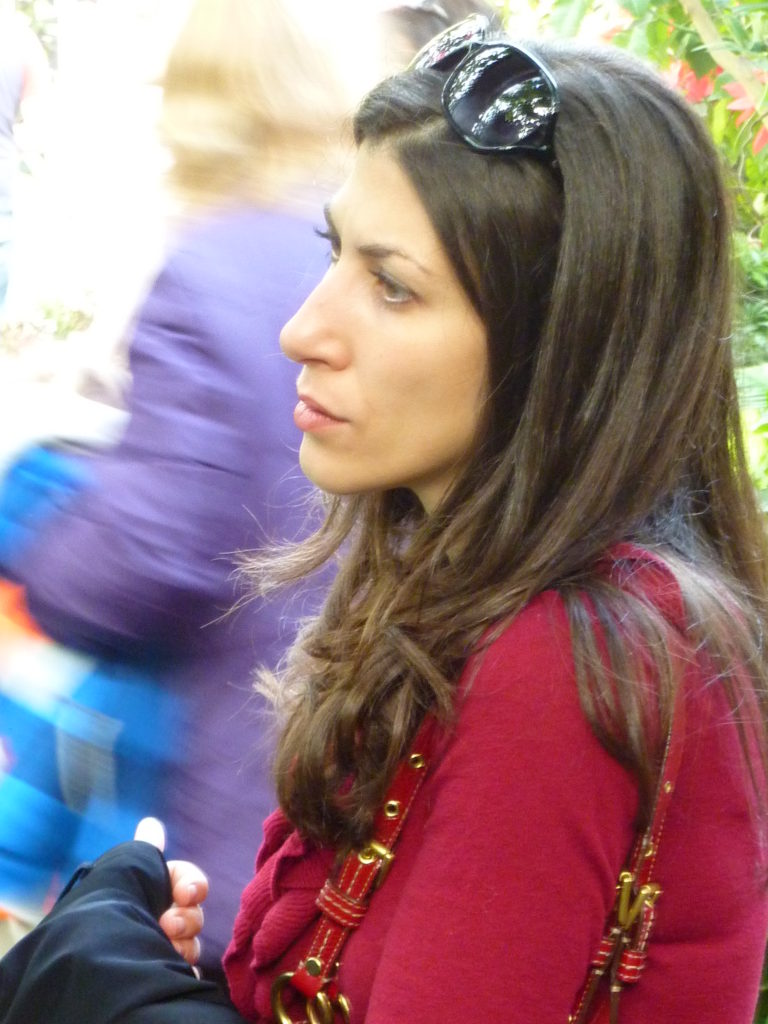 So, my yiayia and I would have endless conversations about life when I moved to the States for school.  She'd ask my opinion and then she would share hers, and we'd talk for hours.  I remember it was such a satisfying conversation every time, despite our age difference of nearly seven decades.
Yiayia Aphrodite had opinions about everything, and they had all been well thought out.  If she wasn't ready to share, she'd be upfront and tell you that she needs to think about it first.  Boy, she was a blunt lady who knew how to set boundaries and was tough.  She knew how to say no, and mean it.  She taught me the importance of having a strong work ethic, respect, and setting limits and boundaries.  She would say that I should dream "with my head in the clouds and my feet planted on the ground."  I always loved that reference.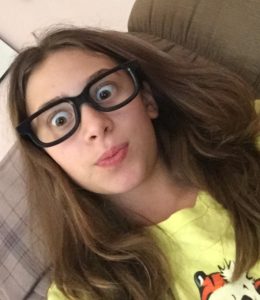 So, I've taken that to mean imagination and reality are both necessary to live a fulfilling life.  One is meaningless without the other, and achieving balance is an ongoing process.  I'm no where near it, personally, since I still have so many questions and things I want to explore.  I can only hope that I'm constantly trying to improve, while setting a good example for Anna.
One of our favorite meals that my yiayia and I really enjoyed is Shrimp Mykonos style.  My mom actually makes a killer dish, as it falls under her extensive repertoire of her "half hour meals."  This was always my favorite and I would request it every time I visited from school for a long weekend or spring break.  If you're a seafood lover, you'll enjoy this!
MAD SHRIMP MYKONOS STYLE
Prep time: 10-15 minutes  Cook time: 20-25 minutes  Yields: 5 individual servings
Ingredients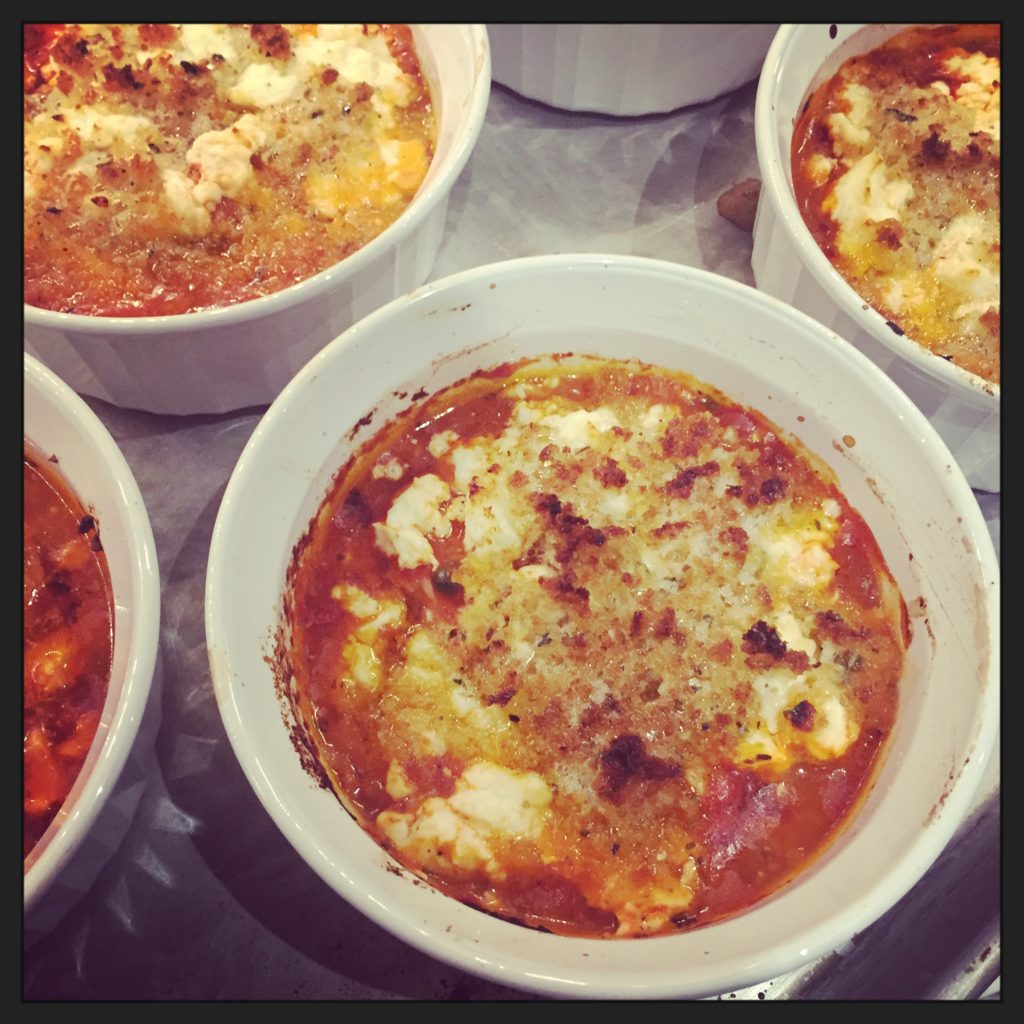 If you love shrimp and feta, you'll instantly fall in love with this dishAbout 20 jumbo raw shrimp, peeled and devained
1 jar of Puttanesca sauce (you can make your own, my mom buys it!)
12 oz. of good feta cheese
2 tbsp butter, melted
1 cup of Panko bread crumbs
1 tbsp dried oregano
Salt and pepper to taste
Directions
Preheat the oven at 375F.
You'll oven safe dishes for this recipe, to fit about 4-5 shrimp in each one.
Using a spoon, put a layer of sauce in each of the baking dishes.  Dry the shrimp using paper towels and carefully layer 4-5 in each one – it's fine if they touch each other.  Sprinkle with salt and cracked pepper.  Add another layer of sauce to cover the shrimp.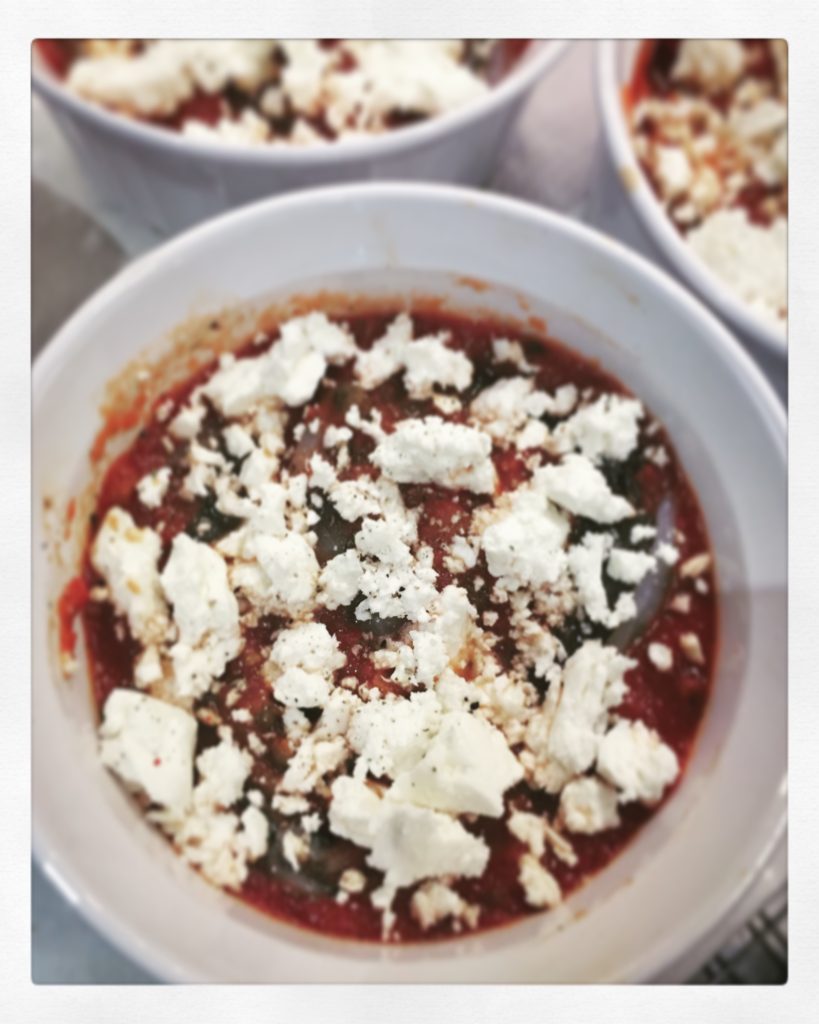 Crumble the feta on top with the oregano.  Be generous with the feta!  In a bowl, mix the melted butter with the panko crumbs, add salt and pepper.  Layer the mixture at the top of each of the baking dishes, making sure each is well covered.
Place all the dishes on a large baking sheet and bake for about 25 minutes, until the panko topping is golden brown.
Let cool for 5-10 minutes before serving.  This dish works well with fresh warm baguette to dip into the sauce.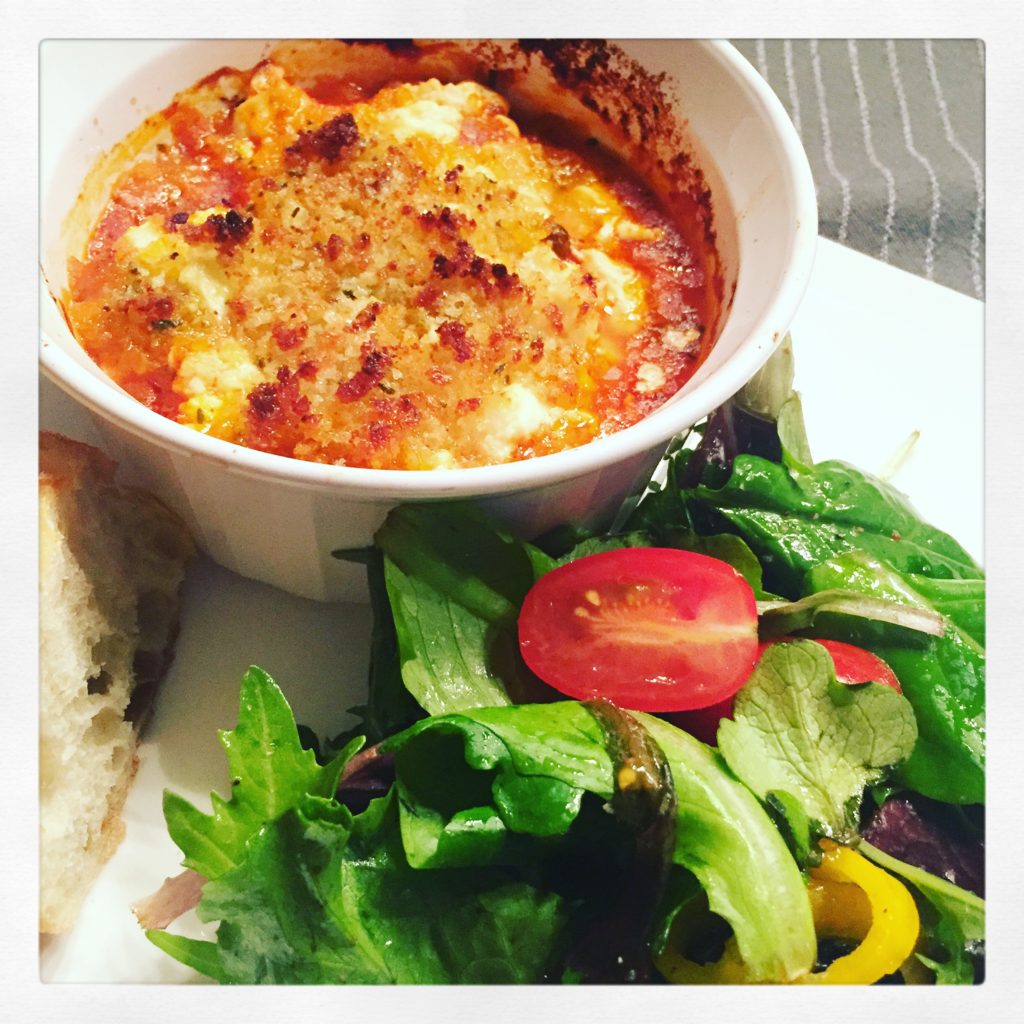 Share only with your favorite people, especially with the ones you can have awesome conversations 🙂
Here's to half hour meals!