While I was initially hopeful for 2017, it has started off as a sidekick to 2017.  It's only January 7th and already we had a mass shooting in Fort Lauderdale that's left us so saddened.  We were all glued to Twitter, TV and any media available that had the latest info as the story was breaking.
The PR practitioner in me keeps revisiting the Creeping Cycle of Desensitization theory of our old beloved BU professor, Mel DeFleur (Amanda, weren't you his grad assistant?).  Not going into too much detail, the theory predicts our behavior and tolerance to what is acceptable vs. not in the media.  For example, decades ago a steamy kiss in a movie was not acceptable whereas today we would hardly notice, much less be shocked.  So, our culture's tolerance to what is acceptable or not has undergone a slow and steady pace over the years and this will not stop since the shock factor always has value in the media world.
I do have some fun food memories from Boston during my grad school days.  We were a small group of PR majors and it wasn't a shock that we all communicated well and got along.  A favorite memory as a group was when I hosted Greek night at my tiny apartment in Allston (15 Carol Ave).  I cooked all day!  I can't remember the whole menu, but it was a spread.  My friend Jill really loved the pastitsio, which I'll share one day now that I've somewhat perfected the recipe.  My Italian friend Marta, who I swear is like a soul connection to me, felt like she was back home, and it was just a special evening.  We had little money and tons to do, but there was a sense of camaraderie with all of us as we plowed through projects and schoolwork.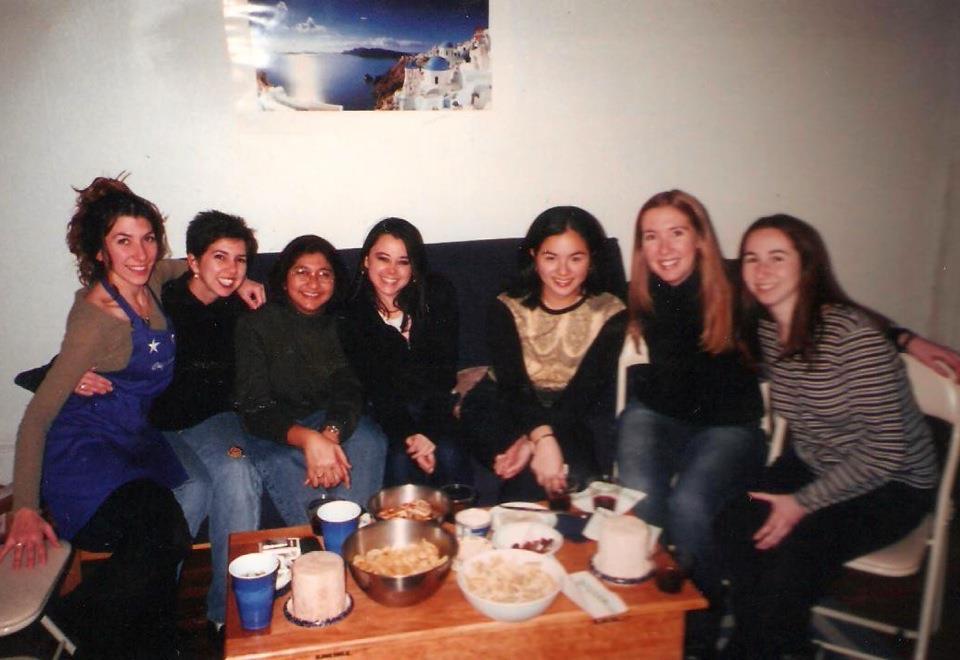 So, I'm holding out that 2017 will gradually improve.  Or I'm realizing that we become desensitized to tragedies and constant bad news that make headlines.  And fake news has enabled our vulnerability to misinformation.  Do we shut off our laptops and phones and tv and live in our cocoon?  Do we stay connected 24/7 instead and drive ourselves mad with things that happen and out of our control?  Can we really achieve long-term balance?  And since balance is never, ever permanent, how do we win the daily battle?
I've been thinking a lot about the people I love and care about as we all continue to age.  Lucky enough, most of us are aging fairly well.  Aside from the physical outlook I'm much more interested in their take on things, their feelings, and their thought process as they consider life now… and all the choices that have come with it.  Do we run out of gas?  Do we switch gears?  Do we stay stuck in traffic?  Do we change direction?  Or, do we just ditch the car and walk freely?  Do you walk alone or always need a sidekick?  What are you trying to discover?  What are you learning?  So much symbolism, so many fascinating scenarios to examine.
Well, I am always pondering similar questions, but meanwhile eating healthy helps!  Here's one that I've embellished since Greek night 2001.
MAD ROASTED VEGGIE ENSEMBLE
Prep time:  15 minutes  Roasting time:  30-40 minutes
Ingredients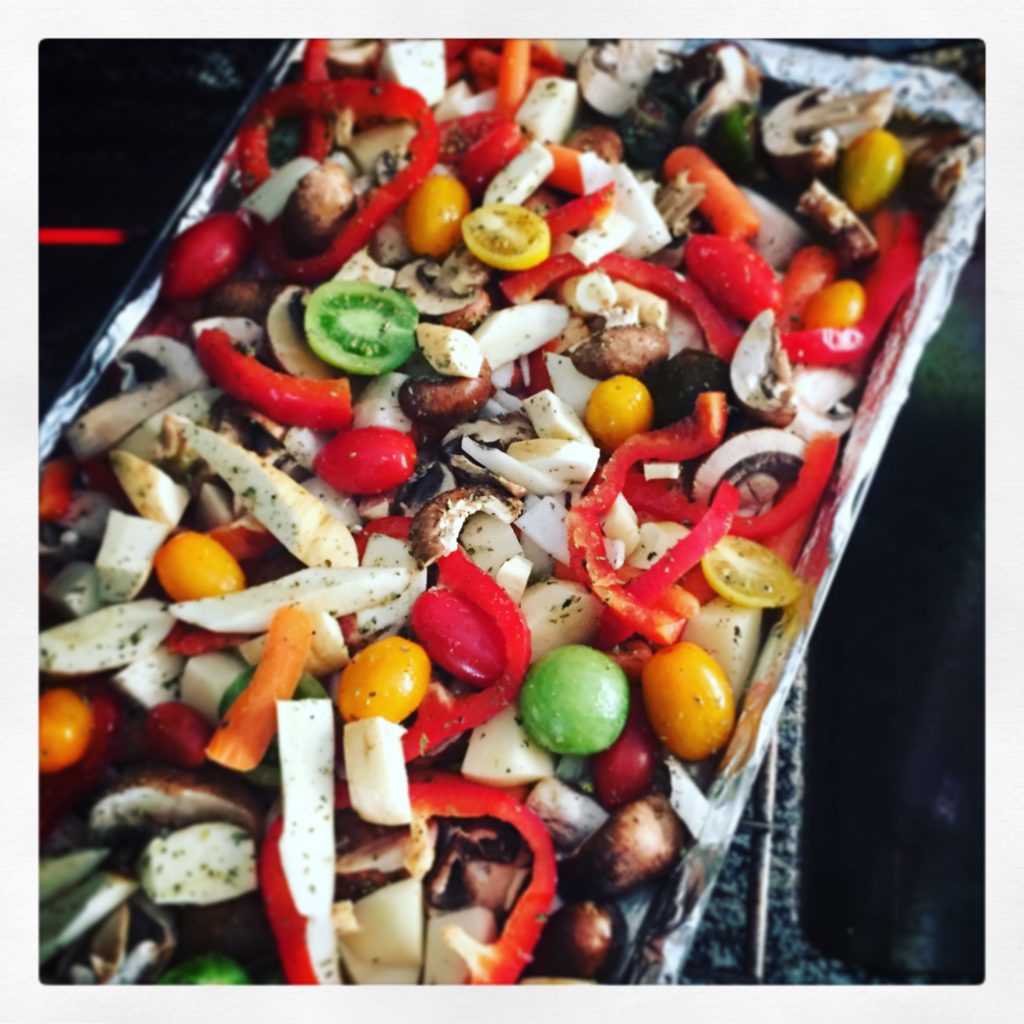 2 parsnips, peeled and chopped
1 vidalia onion, roughly chopped
1 red pepper, julienned
2 medium potatoes, peeled and chopped into cubes
about 15 cherry tomatoes, halved
1 box of mushrooms (whatever variety you like)
1 sweet potato, peeled and chopped into cubes
3 garlic cloves, halved
2 large carrots, peeled and chopped
Note: The best part is that you can use mostly any vegetable you like for this dish.
2 tbsp olive oil
1 tbsp oregano
1/2 tsp cayenne pepper
1 tsp turmeric
Juice of 1 lemon plus 1 tsp of zest
Salt and Pepper to taste
Directions
Preheat the over at 350F.
Line a baking sheet with parchment paper or aluminum foil.  In a bowl toss all the veggies together and add the spices and olive oil.  You can add more olive oil too if you like, just make sure all the veggies are well coated and seasoned.  Even out the mixture on the baking sheet.
Bake for 30-40 minutes until potatoes are tender.  Sometimes I'll place under the broiler for a couple of minutes, but this is optional.
Served best with tzatziki on the side!