I noticed that my posts have become fewer this time of year, but I'm glad to be back on!  Doing the math, it takes me an average of 1.5-2 hours per post, between writing, photography, formatting, etc.  Some posts are longer than others and I don't really re-read them after I write them.  So, I'm sure there are loads of typos as my friend T had pointed out, but I have no interest in going back and fixing the errors.  It would feel like work and this is not supposed to be work..
This time has turned out to be a lot more stressful than I had anticipated, testing all kinds of limits and new ground for me.  I remain grounded, again with the help and support of the ones closest to me who understand — what would I do without you? — but it is a stressful time.  If it 10 is the most stress someone can feel, which I've only felt a couple of times in life so far, this is a ripe 8.
Time for a story.  It's fiction.
Once upon a time, in a small island village in a tucked away corner of Greece lived a beautiful young girl with her very caring husband, who always said he loved her completely.  Many years earlier, they had met randomly at one of the island festivals when she accidentally spilled wine on his shirt.  Their chemistry was instant and after a short while, they chose to get married on their own – instead of following the usual custom of being set up by the village elders, much to their chagrin.  Marrying for love was unheard of in the village, since property was the only thing that mattered.
And since the girl was the largest land owner in her village, marrying on her own especially angered the family next door.  That family was known to be greedy and had plotted for their son to marry the girl as they had set eyes set on her property.  But, she always refused him.
Once the couple married on their own, the villagers saw how much they could do to benefit the tiny village.  As they started settling into their new life together, they shared their skills and talents to help others.  Very much in love, they worked and lived happily, tending to their farm and growing fruit and vegetables together.  They especially enjoyed their days working and trying to improve their tiny village with encouraging children to read and think for themselves.  They had a special type of intimacy that most people don't find in a lifetime.
And when evenings rolled in, they'd spend time on their wide whitewashed veranda, gazing at the stars, eating great food, laughing with each other and making plans for their future.  Life couldn't be better.
One night, after returning from a town meeting in the village square, they walked into their 300-year old home to find everything in shambles!  The curtains were ripped, some windows were broken, the furniture torn up and destroyed, the clay pots in the kitchen were tossed around and cracked open, with wine and olive oil flowing everywhere.  Their mattress had been sliced with a knife and every single glass and dish in their kitchen was  broken.  The only heirloom that mattered to her, the hand painted platter from her great-great grandmother… the one that had been passed on along with the land and house had been  shattered on the kitchen floor.  This was a well known heirloom in the village, because of its history and the way it was made.  Of all things broken, this devastated her the most.
Who could have done this?
The couple cried together in silence and after a while they rose up and started to clean up.  It took them days to pick up all the pieces, and salvage what they could.  She had managed to find every single piece of the broken platter that meant so much.  Her husband helped her and they put every piece back together.  It took them years to figure out the puzzle of how to make these pieces fit.  But, it was so important to her, that they stuck with it, and one day the platter was whole again.  The cracks were endless, and very obvious, but the platter was sturdy again and beautiful.  She placed it on the mantle, but never used it again.  A part of her heart was lost in silence and pain since then.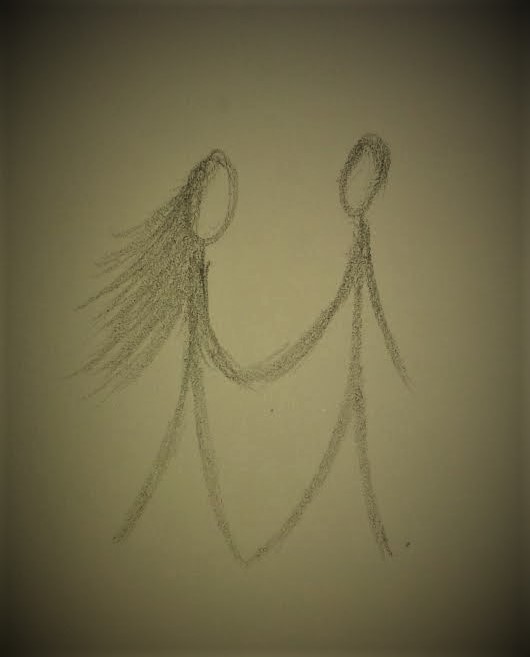 Many years went by, the couple grew older, even closer, had two wonderful children and continued to live happily and in peace.  The neighboring family had scattered and that son had left the island shortly after the incident and never found success or happiness anywhere he went.  It was never proven that he caused the destruction in the couple's home.  That neighbor's son was so focused on being jealous and angry that he destroyed everything in his path in every place he lived.
So, one afternoon, word in the village spread that the the angry son was back.  He hadn't found fortune, happiness, or love and decided to return to the village and tend to his family's farm.  This meant that he was the couple's neighbor again.
One summer night, the couple decided to host a dinner party on their veranda to celebrate their 20th anniversary.  The girl, now well into her 40s, asked her husband to go ahead and invite the bitter son too -their neighbor- over as well.  He didn't want to, but then again he didn't want to displease his wife.  The neighbor thought it was odd to receive an invitation, especially for their anniversary.  With much arrogance he accepted.
The sun was making it's way west and the air was dry and smelled of fresh soil.  The couple set a long table for about twenty people in the village who they had known for a long time.  Fresh linens adorned the table and red wine was ready to be poured out of the "new" clay pitchers.  Their guests started flowing in and soon all but one of the seats at the table were taken.  They were enjoying homemade antipasti.
The neighbor arrived rather late and very impolitely took a seat and poured his own wine.  Silence fell as he started off rambling stories of times past.  That seat had a wine glass and silverware neatly placed, but no plate.
Her husband was ready to get up and bring a clean plate over, but his wife gently stopped him.  She excused herself politely, went inside and a few moments later, she came out with a full plate of really cold antipasti and set it in front of the neighbor.  She took her seat and watched him.
As the neighbor was picking through the wild artichokes, the salami and the octopus, he could feel several cracks at the bottom of his very large plate.  Taking a closer look, he saw that the cracks were impossible to count and ultimately recognized the platter.  So did everyone else, who were shocked that it was pieced back together.  The couple stared at the neighbor in silence.
He growled, knowing he was guilty of the incident years ago.  Raising his arm with anger, he motioned to break the platter!  But, he looked at the couple that was just starting calmly, and in that moment, he realized that it would be pointless to break it.  He ran off instead.  The couple felt such relief.  They embraced and kissed, still glowing with the same feelings from the first day they met.  And everyone kept eating, drinking, singing and enjoying the beautiful evening…
The end.
MAD ANTIPASTI
2 tbsp capers
1/2 pound salami (hard Italian sausage), thinly sliced
Assemble a little bit of each ingredient on platters to share or individual plates.  Antipasti is best served really cold and with warm crostini or freshly baked bread.  Enjoy with those you love and serve it up to those who don't – and keep them very far away.