Eggs, bacon, sausage, crispy hash browns, grain cereal, strawberries and bananas.  Those are all delicious, but breakfast is still not my thing.  At 39, I'll start the day with room temperature water and lemon, when I remember.  Right after my morning set of two-minute planks, it's straight to coffee.
Over the years, the type of coffee I drink has changed dramatically… Greek coffee in my late teens, Nescafe during most of my twenties, then I loved drinking French press coffee for a good number of years.  Now, I'm officially addicted to Nespresso, which may be a combination of its terrific aroma and flavor as much as the convenience it brings to the morning routine.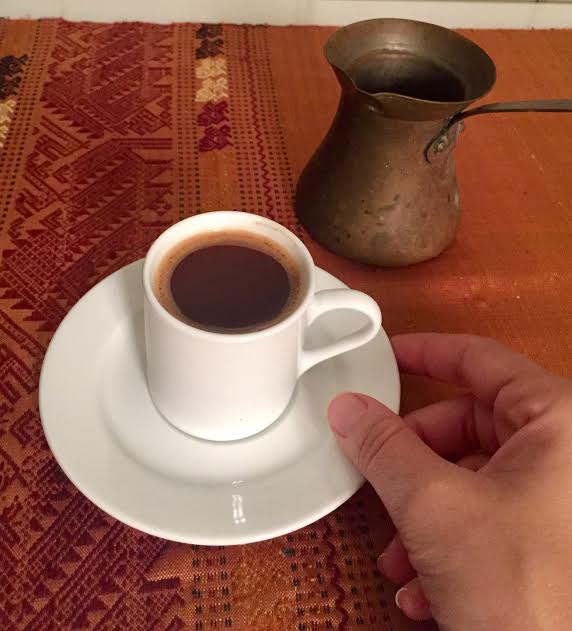 To change things up, I tried opting for tea in the morning instead of coffee.  But that quickly became too boring and weak, so I save tea for afternoons, or for when I'm not feeling well when I get to pour my favorite Karpathian honey in it!
By 10-10:30am or so I'll start getting hungry and start snacking until lunch.  I've been that way ever since I can remember.
Growing up, my grandmother used to yell at me if I didn't have breakfast in the morning.  My mom was usually still in bed when it was time to head off to school, and my dad used to talk to me at the table and just leave me alone, which I appreciated.  Occasionally, I'd grab a warm croissant on my way out, or bite out of tiropita (cheese pie), but I was hardly ever in the mood for breakfast on weekdays.
Then I watch my daughter develop much better morning habits than her mom.  Anna will eat two eggs, an English muffin, three sausages and several cubes of cantaloupe as her "first" breakfast.  Then she goes for apples and oatmeal.  She's a swimmer and is already four inches taller than me at age 10.  I'll watch her eat with admiration as she washes everything down with milk or water.  Sometimes she'll ask me why I'm only drinking coffee and only the occasional thin slice of my famous zucchini cake.  My answer is always the same, "I'm up, but still waking up."
Weekends are a different story.  I feel more relaxed, and not on a schedule and will indulge in a morning breakfast of bacon and eggs or a warm chocolate croissant.  There's nothing better than reading the Sunday paper sipping on delicious coffee and munching on a warm croissant!
Traditional Greek breakfast is very different than what we are used to here.  It's mostly pastries or toast/rusks with butter and marmalade or honey or Merenda (the Greek Nutella).  Sometimes it's a croissant or a spinach/cheese pie, and other times it's just butter cookies dipped in milk or coffee.  No eggs, pancakes or waffles. No bacon, and definitely no sausages.  Hardly anyone actually lights up the stove to cook breakfast in Greece until it's time to make lunch.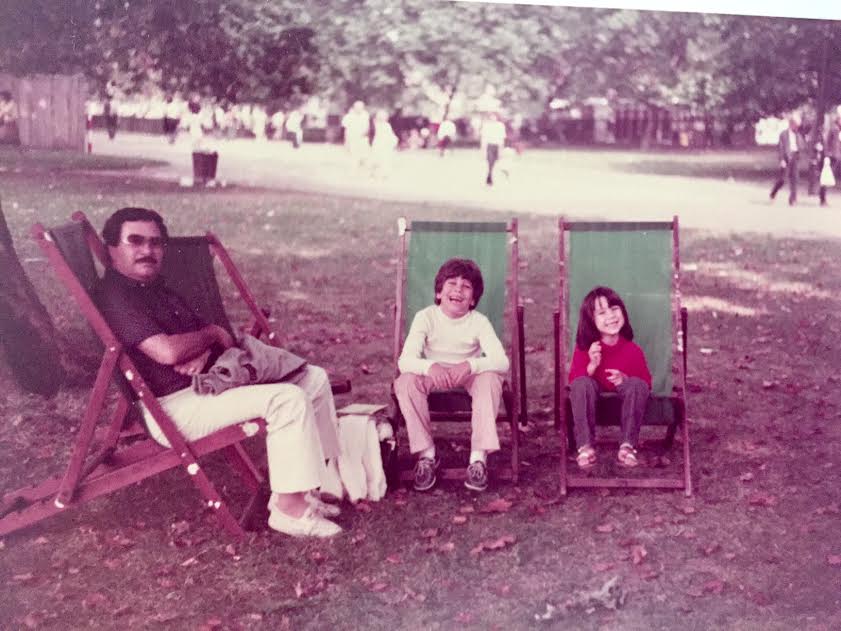 In the spirit of Father's Day, I'm thinking of my dad and the brief times we'd have in the morning together when no one else was ready.  He would be the first one to wake up every morning, and he'd wake me up at 6:45 and then wake my brother… who was grumpy and didn't want to talk to anyone before 7:30.  I'd get ready fairly quickly and head into the kitchen and chat with my dad, who was enjoying a bite of breakfast before taking the train to his office in Pireaus.
Since I didn't eat anything but drink milk or juice, it was the perfect time to check in about what each of us had to do that day.  I'd watch him spread his favorite orange or cherry Hero marmalade on lightly toasted bread with such precision and wondered how it almost never dripped on the plate as he took each bite.  I never liked marmalade much.  But it was a staple in our home.  Then he'd quickly finish his Greek coffee and off we were.  Usually, my dad was the one out of the house first and almost always the last to come home in the evening.
I've tried a few times to make marmalade with leftover berries that I didn't want to go to waste and each time it was very tasty.  I don't think I'm ready to share a recipe on that today, but I had started writing a poem inspired from those times.  It stayed unfinished for a few years, since I was wondering how it should end.  Recently, I've found unexpected and remarkable inspiration that somehow motivated me to finish it.  The formatting of the poem might be a bit off as I tried to write it here, but the essence is there.  Happy Father's Day!
MARMALADE
Random gatherings of bitter citrus fruit
Plucked from every season
With haste, she tosses in a sizzling pan.
Bouquets of smells, some too familiar
Sluggishly
Permeate the kitchen.
She's made excuses for those moments
Left unseized, abandoned, unmarked.
Experiences mustered like the fruit from every season
To eat?
To compost?
Or rot?
She adds sugar and more water
And raises the heat.
Time is such a charming swindler!
Memories irritate and console her spirit.
Are they glorified?  Watered down?
The kitchen fills with aromas
Unfamiliar, unknown, exciting.
Her taste buds swell in anticipation
Desire? Hunger? Zeal?
A new path – perhaps?
Stirring briskly with a whisk
The mixture bubbles up
She releases a long sigh –a soft smile appears.
It's almost ready
The gripping monologue grows silent in her brain.
Her face, now – oh — so radiant.
With a quiver of delight
She turns off the stove.
It's time.
The marmalade thickens…
(she lifts a spoon)