Thanks to all of you supporting me during this stressful, final stretch of tax season.  I'm glad to be writing again tonight, and feeling good about stealing a little bit of time for myself without client emails or invoicing or incoming requests for quotes.
A few people have wondered why I haven't posted a recipe on moussaka yet.  If you have any clue about Greek food, then you've certainly heard about moussaka and all its variations.  While I enjoy it, it's never been my favorite dish, but it was my brother's, and my father used to make it about 2-3 times a year so.
There was a method to the madness of making moussaka in our household.  First, my parents would discuss when my dad would make it.  Then, my brother would get all excited.  I'd just listen and stare at them as they planned the ingredients, who would buy what, etc.  Back then, my dad would buy most of the vegetables from the open market in Pireaus, and my mom was in charge of buying proteins, dairy, etc.  So, in our house moussaka was made with the freshest ground beef (not lamb), zucchini instead of eggplants, and gold potatoes.
For those of you who aren't aware of moussaka, it's a dish of layers… the bottom is potato, then ground meat with spices and sauce, then eggplant (that's the traditional recipe), then a thick layer of creamy bechamel sauce — all broiled to perfection!  It delicious, but rich and heavy.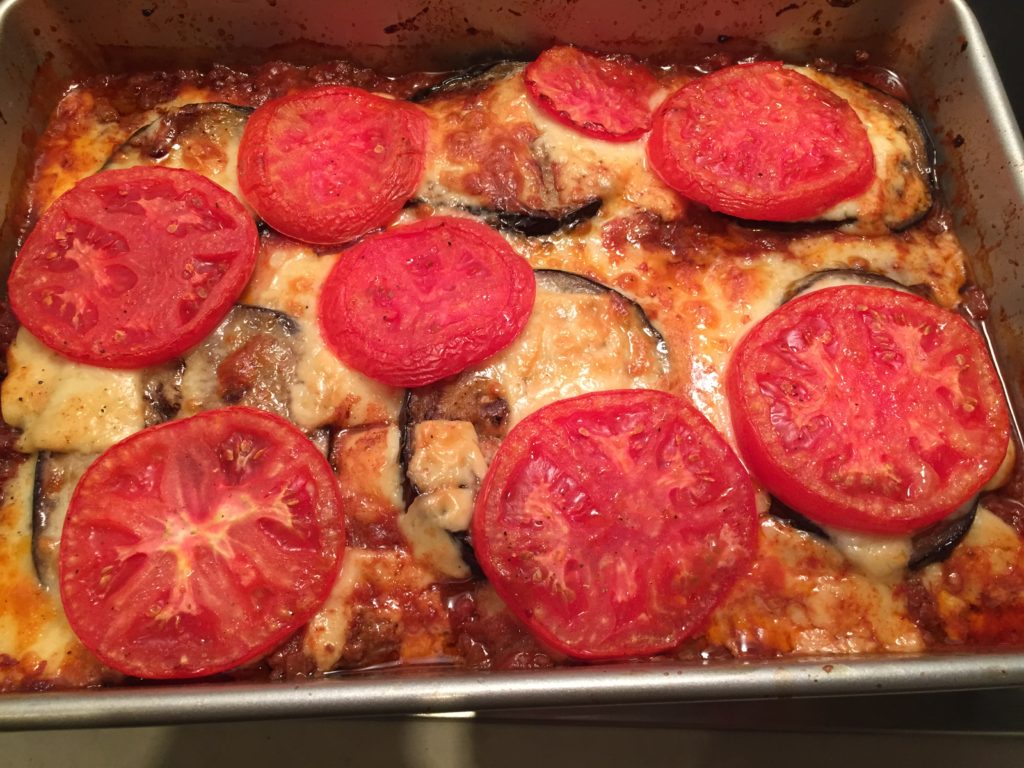 So, typically on a Saturday morning around 6am, while the rest of us were still asleep, my dad would shut the hallway door that separated our apartment's bedrooms with the rest of the space and begin the moussaka ritual.  That involved playing records of folk songs from the 40's and 50's on our living room stereo as he sliced the potatoes and zucchini in flat layers.  By 8am, my mom would join him, since her role was to make the bechamel sauce and pour it on top before the pan went into the oven.  By 1-2pm it was ready to enjoy!
That happened every year of my years in Kifissia from what I can remember now.
When I transferred to NY to finish up undergrad I remember meeting a lot of Greek Americans.  I found them so different from me and interesting and in some ways really aloof at same time.  They had clearly been brought up to adore Greece no matter what.  In many ways, I found them to be closed minded, which is probably why I don't have many Greek American friends.  The only affectionate exception are my five cousins from Long Island, who have always been nothing but kind and supportive of me, especially once I moved to NY on my own.
So, that first semester when I moved from Greece to NY was tough.  I remember crying for a few days in the beginning, learning to adjust, understanding the slang, wondering why strangers would say hello to you when you passed them by… I learned so much those first months.  I had met a few Greek Americans, too, and they were planning an International night and asked me if I wanted to bring something to participate… so I offered to make my dad's moussaka.  There was a common kitchen in our dorm's lobby, so I was planning to use that and a couple of friends were going to help me out.
In the back of my mind, I kind of knew how to make it, but had never actually made moussaka.  It was a Tuesday morning, I remember, and I was in my dorm room in-between classes thinking now would be a good time to call Greece to speak to my dad and ask how about the recipe.  I knew he'd be excited to share his method with me!  So, I call and the phone rings, and rings… until the answering machine asks me to leave a message.  I try again a few minutes later, and no answer.  "That's so odd," I thought to myself, because my parents were always there at that specific time in the evening, mainly so they could watch their shows, news, etc.
I leave it alone and figure I should get ready for my next class… modern Greek.  As I'm about to leave the room, the phone rings.  It's a double ring, so I automatically know it's off campus and I pick up.  My brother is on the other end of the line — another odd phone call in the middle of the afternoon.  He asks if I'm sitting down.  I say yes, but I'm really still standing in front of my desk with my books in my arms.  He falls deadly silent, takes a breath with difficulty, and tells me that dad had suffered a heart attack earlier that morning… and that "unfortunately he did not survive."  I still can't remember at what point I actually sat down in shock and disbelief.  I do remember the calmness in my brother's voice as he told me we were meeting in JFK the next day and flying back to Athens together.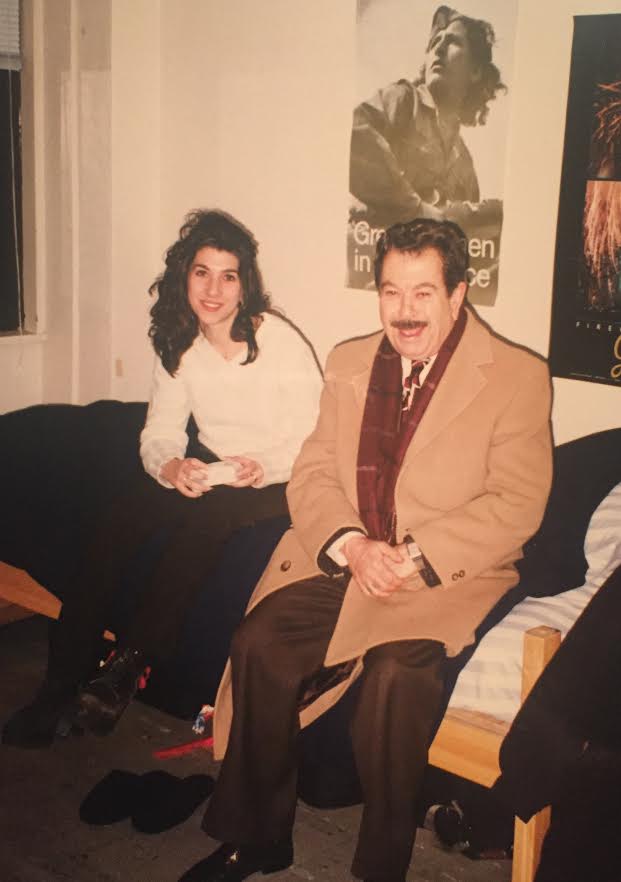 It wasn't a long phone call.  Meanwhile, my roommate, Iva, had come back from class and must have noticed how pale I looked, and when I told her, she started hugging me and crying.  I was so happy that someone could cry for me, because I didn't know how, or have the courage to do that at the time.
And that was exactly 19 years ago today.
Since then, I have enjoyed a full life that I am often sad he's missed out on.  I've made moussaka a good number of times, while creating my own ritual and adding to his recipe. Sometimes, if I'm up for it, I'll play 40's songs while peeling the potatoes.  And that's about as close I will ever feel him near me these days – probably trying to tell me, in a commanding voice, not to slice the potatoes too thin…
MAD MOUSSAKA
Prep time: 1 hour  Cook time: About 1:15minutes  Yields:  one 9×12 pan
Ingredients:
1 lb. of ground beef
2 medium size onions, finely chopped
3-4 garlic cloves, minced
1 12oz can crushed tomatoes
About 5-6 large potatoes (Yukon gold work great) peeled and sliced in 1/4 inch layers
About 6-7 zucchini, sliced in 1/4 inch flat layers (not round)
Olive oil – you'll need a lot of it
1 tbsp butter
Dried oregano
1/4 tsp all spice
Salt and pepper to taste
For the bechamel:
4 cups of 2% milk
1/2 cup of butter
6-7 tablespoons of whole wheat flour
1/2 cup shredded Parmegiano Reggian or Pecorino Romano cheese
Directions:
Preheat the oven 350F
In a large skillet, heat about 5 tbsp of olive oil on high heat.  I recommend using a non-stick skillet or a well seasoned cast iron pan.  Quickly fry each one of the potato layers so that they are crispy on each side.  Repeat until done and layer directly onto the pan, as evenly as possible so that it fills the bottom of the pan.
Meanwhile, you'll want to sautee the onions in a separate skillet with olive oil until they are lightly brown.  Toss in the garlic and stir for a 1-2 minutes before adding the ground beef to brown over medium high heat.  Once the meat has browned, add the crushed tomatoes, salt/pepper, the butter and all the spices.  If the sauce tastes a bit tangy, you can sprinkle a little sugar.  If it tastes too sweet, splash a bit of red vinegar.  You'll find the balance in taste, I promise!  (Note: This is actually fine to make from the night before, which will give the flavors an opportunity to really come together.)
Layer the sauce evenly on top of the potatoes.  Add the sliced zucchini.  I don't personally think you have to fry the zucchini because it's thin enough to cook and steam in the heat of the oven.  You can certainly opt to fry the slices if you like.  Layer the raw zucchini on top of the meat sauce and then sprinkle with good salt (Karpathian flaky salt, if you have it!).
Make the bechamel sauce:  In a medium saucepan, start by scalding the milk.  Melt the butter in a large skillet over medium heat, and then whisk in the flour until combined.  Cook on low heat, careful not to burn the lumps for a few minutes.  Gradually pour the hot milk into the skillet, leaving the heat on low, and whisking constantly until it thickens.  Add the cheese. Season with salt, and white pepper.  You don't want it too thick or too thin!  Pour over the moussaka.
Bake uncovered for about 1 hour and then broil until the bechamel is golden brown.
Share with love.  Don't live out someone else's story.
Make your own memories.