Wishing you and your loved ones a very Happy Thanksgiving, full of joy, lasting memories, and hopefully no family drama!  I'm enjoying our first turkey-free Thanksgiving this year.  We spoke to my mom in Greece, who laughed off my previous blog post on her Brussels sprouts, and then to my brother, who is spending the holiday in San Antonio with family there.
We also spoke to my mother in law, who lives in Northern Greece and she is coming to visit for six months this December.  She's a very sweet lady and I'm looking forward to having her spend the holidays with us.  And praying for no additional family drama.  After that, Michael and I went to the gym and I was surprised to see it so crowded!  I guess everyone was trying to get their work out in before the big feast!  Still, it was great to exercise and then drive the s4 cabrio around town.  I love this car; and feel thankful that Michael takes care of it so well.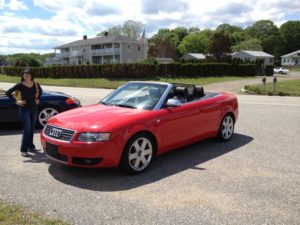 Thanksgiving this year has really made me think about family and how everything can shift over time.  It's also taught me the importance of being in the moment and allowing myself to be present.  Easier said than done when you have a family and obligations.  Still, being present is a necessary exercise that fuels progress and growth.  This time of year, we're often reminded of family stresses, and we have power to indulge in all that, or… not.
Needless to say, we don't choose our family, and we do have the choice of who to include in our life, whether it's family and/or friends.  What matters really, is being thankful, and I am finding that it is state of mind – not just on a day like today – and a way of life.  In many ways, it's a daily exercise to mindfully make it a point every day to live with purpose, while being thankful for all the experiences we have that make up who we are.  That doesn't mean only acknowledging all the "good" things, but learning to embrace the challenges, too.  That's much harder.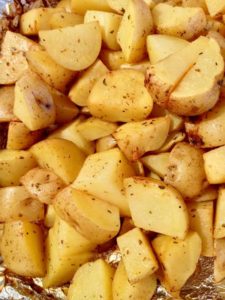 No recipes today!  Although, I do want to give a shout out to my dear friend Amanda, who is celebrating with her family in Michigan now, and prepared what she calls "Didi's Greek marinated potatoes."  I promise to share this recipe soon, and I think you will appreciate how quick and easy these potatoes can be!
She just sent me a photo of them and they look delicious!  Enjoy the day, everyone 🙂