Thank you again to all of you for reaching out, whether on the blog or through email and messages!  It's tough to write monologues without feedback, so I am really thankful for all the constructive comments and encouragement!
I've felt so inspired with the Women's March this past weekend, especially with how my mom took the lead on going with me to the West Palm Beach rally.  She wasn't sure how her knee would hold up, but she managed to put that aside and focus on the reason we were there.  "We have to do this for women," she kept saying and even though my mom couldn't last all day at the rally, our homemade signs were a big success!  Women and men were giving us high-fives and thumbs up and it was an amazing experience.  I specifically remember this one lady who took a photo of us with our signs to send to her friends in Germany, who were also holding a sister march.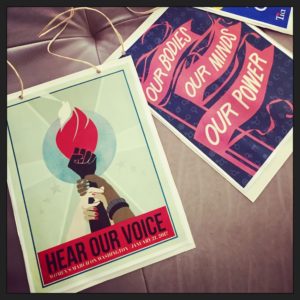 Since it's throwback Thursday, I can't help but think of a somewhat similar story, this time about my parents.  My mom and dad got married on November 4, 1973 here in Palm Beach, at the Breakers.  It had been a very difficult year for my mom until then.  She had just lost her father, Emmanuel, to colon cancer that summer, and her aunt Persephone had fallen ill with kidney disease.  My dad and my mom were in a long distance courtship for a year or so.  That fall he decided to travel to Palm Beach from Athens to see her, and ended up proposing to my mom.
They didn't have much time to plan a wedding, because my dad had to return to Greece to his law practice, so within three weeks they were married!  They were both older, so they viewed marriage more sensibly, and far more as a partnership rather than love forever after.  So, how do you merge the life of a native Floridian who spoke little Greek, and a Greek lawyer who didn't speak any English?  They managed pretty well, but had some funny stories in the beginning of their life together.
My mom agreed to move to Greece since my father's work was established in Pireaus.  At the same time, she said that their children will be born Americans, which is at it happened.  My parents didn't have a honeymoon after their wedding, they traveled to New York for a few days, bought their furniture and shipped it to Greece.  They first settled in my father's bachelor apartment in Pireaus, which was walking distance from his office.
It's important to mention that Greece was going through a major political transition right at that time. Since the spring of 1967, Greece had been under the military dictatorship, which essentially abolished civil rights, dissolved various political parties, while exiling, imprisoning and torturing politicians and citizens based on their political beliefs.
According to history, in 1973 the military junta leader, Giorgos Papadopoulos undertook a liberalization process of the dictatorship.  This apparently included the release of political prisoners and the partial lifting of censorship, as well as promises of a new constitution and new elections returning to civilian rule.  At that point, the opposition elements including Socialists had a window of opportunity to undertake political action against the junta.
So, as the story was told to me, the morning of November 13th my parents went to Athens to visit relatives.  The tensions had grown and the city had started to shut down.  On their way back there was no public transportation – it had been cut off from the city center.  People were stuck and couldn't go anywhere.  Chaos ensued.  My parents tried to hail a cab but none were stopping.  At a red light, my mom stood in front of a cab and my dad opened the door and said, "You're taking us to Pireaus."  Yes, this is how things work in Greece sometimes!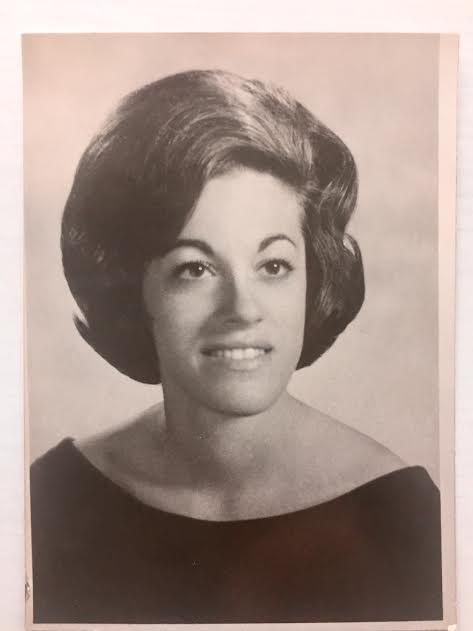 The next morning, my dad left for his office.  Within five minutes he was back home.  Surprised, my mom thought he forgot something.  He didn't say anything and immediately started closing the window shutters.  Then he said to my mom that there was a military tank at the corner sending everyone back inside their homes.  My mom at first was excited!  She grabbed her camera ready to go outside to snap a photo of the tank.  Really taken aback by her excitement, my dad said she shouldn't go as it was dangerous!  Instead, they turned on the TV – the military channel was the only one available – which was repeating, "We decide and we dictate…"
And just like that a 24-hour curfew had been imposed throughout the city.  My parents had just come from New York two days earlier and had been eating out.  At their apartment, they only had a can of tuna fish… and an onion.  Thankfully, they had a good attitude, too.
Needless to say, as an American, my mom was totally shocked that someone can just claim power and can dictate what the people could and could not do.  It stayed with her for a long time that basic rights could be abolished with such force.  Anyway, for the time being, they had to find food!  So, all the residents in their building came together and it was like stone soup… everyone shared what they had for two full days.  The city had been completely shut down – no phone lines, no mail.  Only the military radio and TV channel that was censoring everything.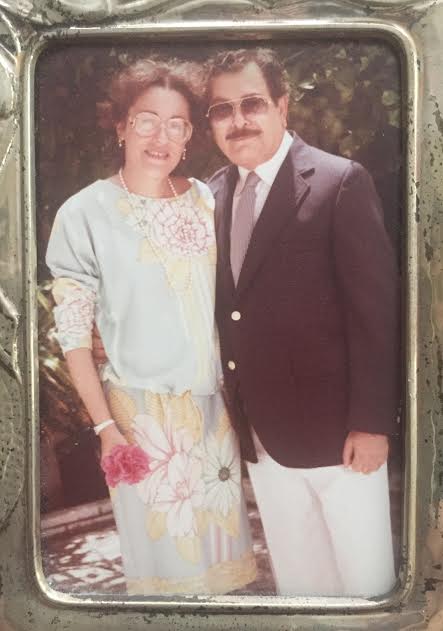 In the early morning of November 17, the protesting of students in Polytechneio took place.  Students took a stand against the junta dictators, protesting, and barricading themselves inside the University.  The students figured out a radio frequency that could be heard to the public and they were broadcasting live as the protest unfolded.  The transitional government sent a military tank to crash through the gates of the Polytechneio, killing several civilians.  November 17th has since become a national holiday that Greeks observe.
My parents definitely experienced a lot together in their first few months of marriage, forcing them to communicate as best they could.  I really enjoy it when my mom shares stories like these.  Hearing her experiences and insights are not only relevant today, but they help keep me grounded.  Basic rights can be taken for granted and we have to fight for them!
On that note, I'm sharing with you my favorite guacamole recipe to celebrate.  I don't mind cilantro personally, but I know people who really don't enjoy the flavor.  This recipe can be made without cilantro, and you won't miss it!
MAD FIESTA GUACAMOLE
Prep time: 15 mins   Idle time: 1 hour  Yields: 3-4 servings

Ingredients
3 medium size haas avocados, ripe to the touch but not overly ripe
Juice of one lime (use two limes if the juice isn't as much)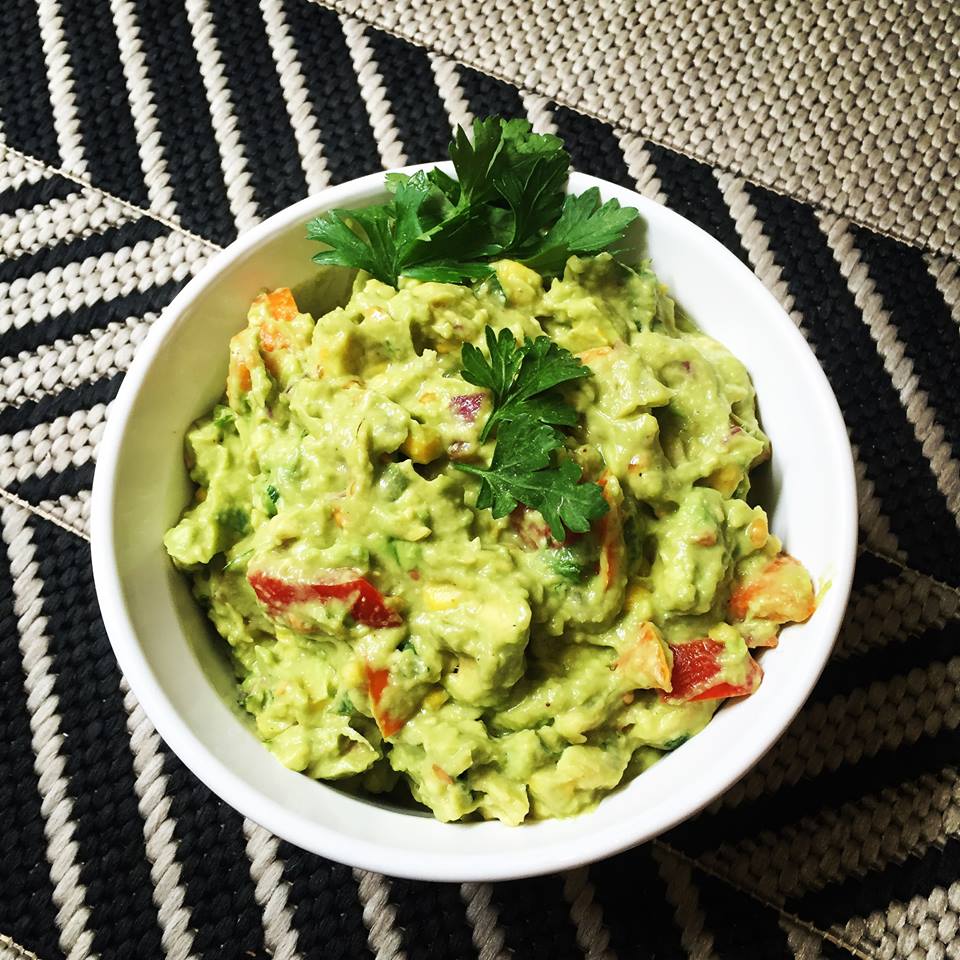 ½ tsp cumin

A good pinch of sea salt

½ tsp cayenne pepper

2 cloves of garlic, minced

1 tbsp olive oil

1 small tomato chopped, include the seeds and juices

3 tbsp of red onion finely chopped

2 tbsp of yellow or orange sweet bell pepper, chopped

4oz of fresh cilantro, finely chopped (optional)
Cracked pepper to taste
Directions
Slice lengthwise, remove the pits and smash avocados in a medium size bowl with a fork or potato masher.  Add lime juice, salt and pepper and set aside for 5-10 minutes for flavors to meld (about enough time as you chop the veggies).
Toss in everything else and mix well with a spoon.  Keep in mind, as with tzatziki, the flavors will come together during idle time, so don't over season.  Cover with plastic wrap directly onto the surface and refrigerate at least 30 minutes.  Mix the guacamole and adjust the seasoning to wake it up before serving.  I add in a little more lime juice to brighten up the flavors.

Fiesta time!