I love how every year or two health experts, supported by chefs re-introduce the "in" veggie for the season.  In the past five years or so we went from sweet potato, to kale, to Brussels sprouts and most recently to cauliflower.  Thankfully, I'm noticing kale is being replaced slowly by chard and mustard greens.  I've also been reading that asparagus is coming to the forefront now and so are beets (two of my favorites).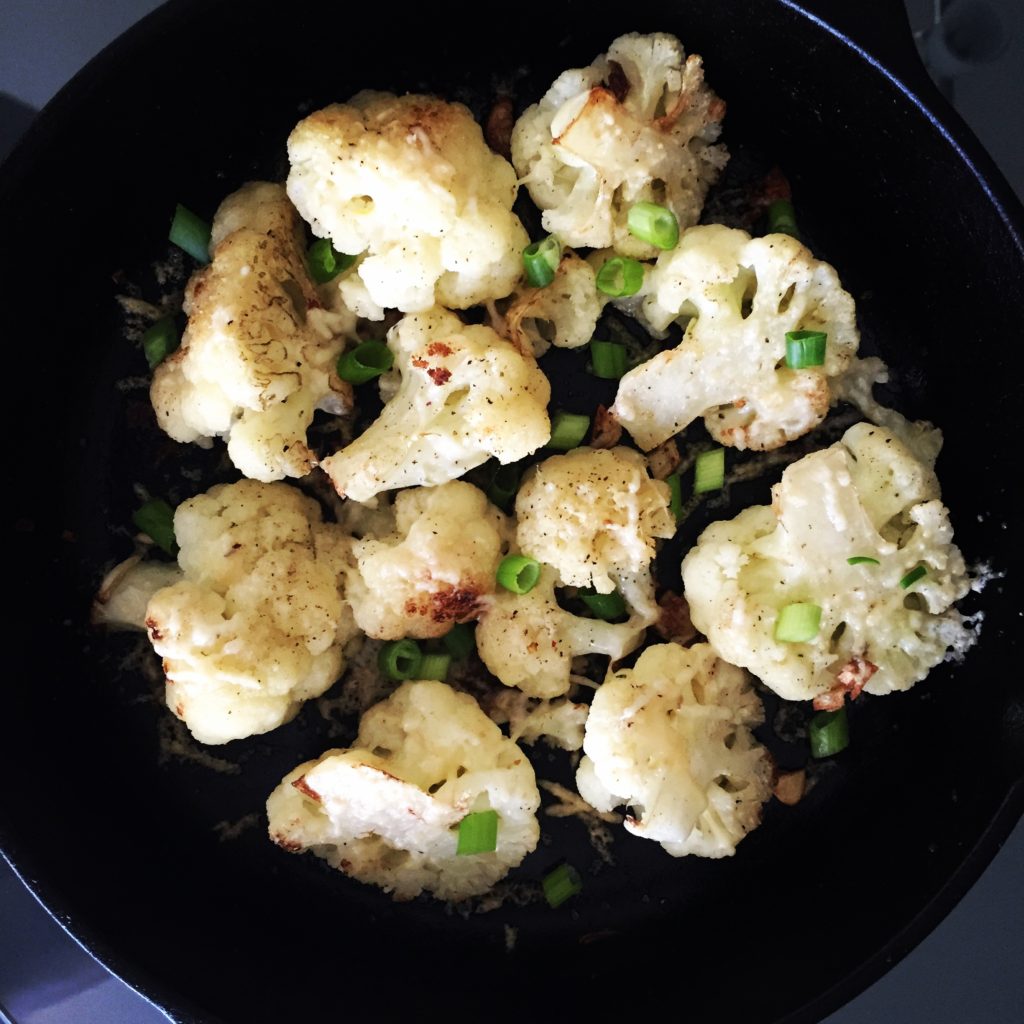 However you slice the veggie, it's just fun going produce shopping.  I remember growing up going to the "laiki agora," the public local farmers market that shut down one of the main streets every Wednesday in Kifissia.  There were so many local markets and I recall the yelling, the negotiating, the curse words from the farmers to the shoppers.  I loved observing people at the farmers market.  And it always amazed me how, after yelling at one another in negotiating prices, at the end of the transaction both the shopper and farmer would be calm and thank one another till next week.  Fascinating.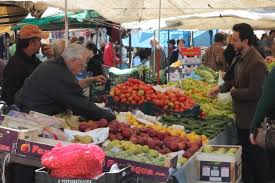 Later on, when I moved to Boston in 2001 for grad school, I would go to the Haymarket downtown on most Saturdays.  It's not that it was the best produce, but I was on a budget and the Haymarket reminded me a lot of the markets I grew up with in Greece.  It was all very familiar to me.  I would sometimes negotiate, though it really depended on the person.  Since I don't like getting yelled at, I would generally just pay the price if it was low enough.
I also noticed that a genuine smile went a long way back in those days.
One Saturday, I went to the Haymarket to buy tomatoes and remember that the farmer was smiling and staring at me as he just kept filling up the bag of tomatoes to the top.  It was really funny.  He only took $1.50 and I think I ended up with 15 delicious tomatoes!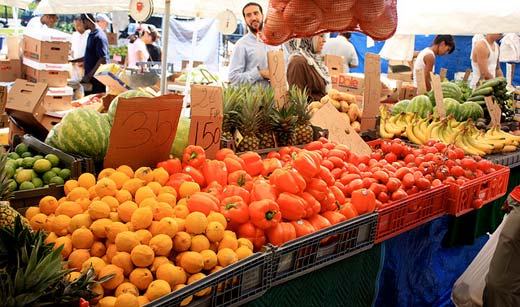 Like most of us, I had my share of not liking some veggies growing up.  Cauliflower? Yuck.  Okra?  Double yuck.  Sweet potato?  That was such a foreign vegetable to us in Greece and always tasted to me like a wannabe potato.  As I learned how to cook on my own, I realized that there wasn't just one or two ways of preparing a vegetable.  What I love about cooking is the fundamentals are hard core strict, but creativity is endless.  No rules apply to the creative process of cooking… you can add and take away, explore as much as you want.  What's not to love about that?
Anyway, specifically with cauliflower, I tried so many different recipes… I grilled, boiled, braised, broiled and sauteed the heck out of it.  I know many chefs cover up cauliflower with tons cheese and cream to make it into mashed or mac-n-cheese.  While delicious, for me that's a cop out.  The cauliflower is not the star.  And if it can be yummy, why shouldn't it be?  So, I've come up with a cauliflower recipe that I love and happy to share with you.  Warning: I constantly improvise this one, so… you can adjust the spices to your taste.
MAD CAULIFLOWER AND TOMATO RELISH
Prep time: 20 minutes  Cook time: 30 minutes
Ingredients
1 head of organic cauliflower
1 small onion, finely chopped
2 cloves of garlic, minced
1 can of organic diced tomatoes (if using fresh, you'll need at least 3 large tomatoes cut into small cubes)
2 scallions (green part only) or chives, diced up
2 tbsp olive oil
1 tsp red wine vinegar
1/2 tsp turmeric
1/2 tsp crushed pepper flakes
Salt and Pepper to taste
Directions
Cut the cauliflower into florets.  I know it smells the kitchen, but I like to steam the cauliflower just enough so that the bite is gone – steam for 5 minutes and drain.
In an ovenproof skillet, heat the olive oil on medium-high and toss in the chopped onion and saute for 2-3 minutes.  Add the garlic and crushed pepper and stir in for another minute.  Be careful not to burn the garlic.  Set skillet on medium heat and add in the steamed cauliflower.  Coat with the olive oil until it is lightly brown.   Stir in the tomato, turmeric and vinegar.
Semi-cover and cook for about 15 minutes or until cauliflower is tender to the fork.  Meanwhile, while the cauliflower is cooking, preheat the broiler.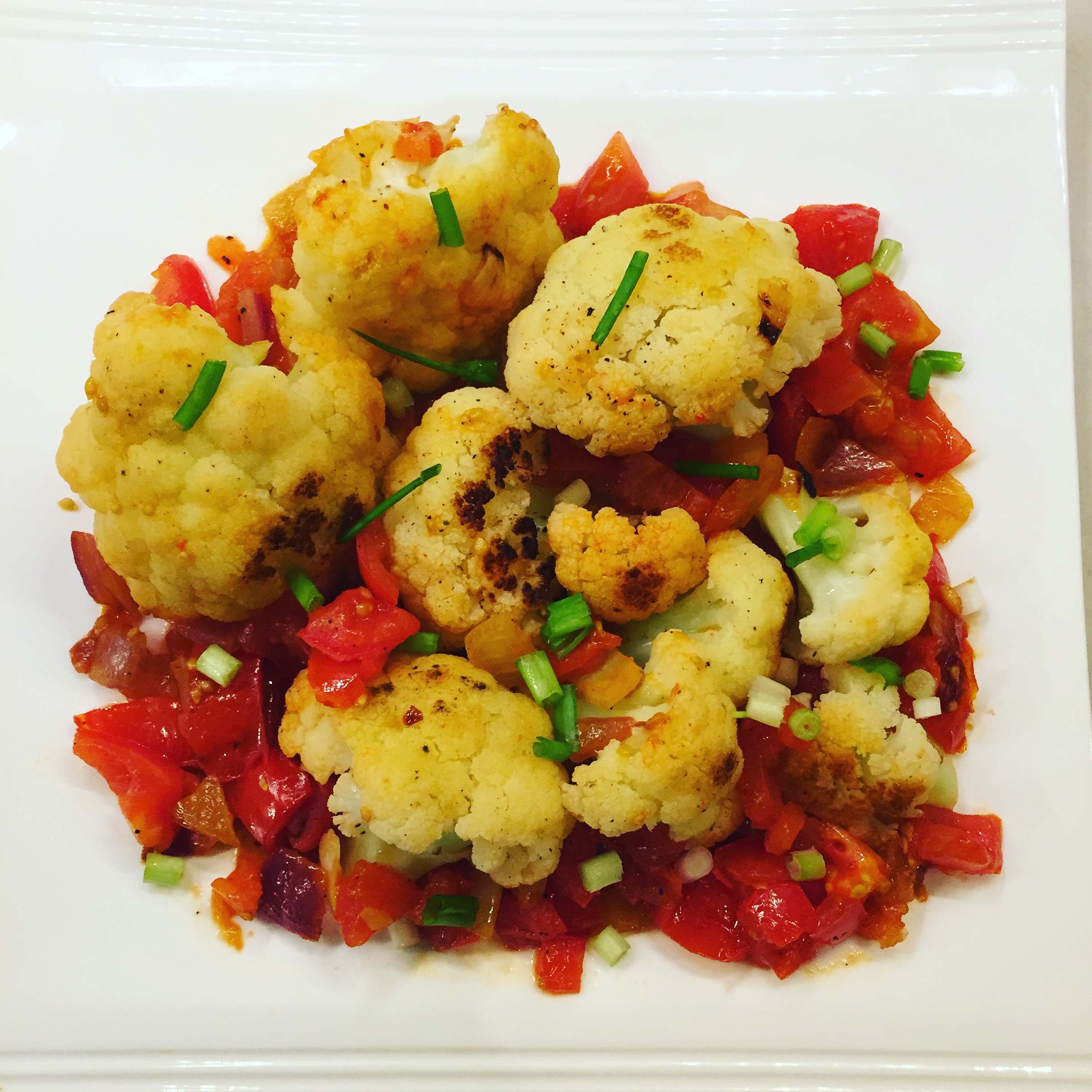 Uncover the skillet and place under the broiler just enough so that the cauliflower and tomato relish obtain a bit of color, no more than 2-3 minutes.  If you really want to add cheese, this is the time.  I would sprinkle feta or Gruyere before placing under the broiler.
Sprinkle the chopped chives or scallions for effect.
Serve warm and in only awesome company who appreciate you 🙂