Today's post is not a food one – sorry!  I've been inspired so much with the activism of the women in our country, and our respective local communities, that I feel compelled to express my support.  It's easy, all you have to do is click away if you don't want to read it.  Or, in the words of my father:  Να μη σώσεις! (er, a loose, polite translation: "may you never endeavor!")
It has been an interesting month so far.  I still can't believe the inauguration is tomorrow.  The media are on fire with news surrounding it, and focused even more on the day after the inauguration… when the Women's March will take place in DC.  I was happy to see there are several sister marches happening, for those who can't get to the main one.
There is a sister women's march (rally) taking place in WPB that has thousands who are planning on protesting this Saturday at noon.  It's a beautiful thing to see women (and those who support them) gather together to support being who we are.  We are women who not only have rights, but the right to make sensible choices.
Personally, I am getting tired.  Tired of having men in suits, with inflated egos and the need to control others dictate what we should do with our womb, our bodies and our minds.  Men who refuse or don't have the ability empathize with women, and who simply don't respect them.  Men who will never truly grasp the total pain of child labor (because it does hurt – oh yes, a lot) and all of its consequences.
We all have opinions, which we have the ability to share and discuss freely – it's the beautiful function of this country.  We find opportunities to debate, to organize, to argue, and to demonstrate.  And it gets ugly at times.  With peaceful protesting we are able to express our opinions and feelings.  That's an amazing thing about democracy.
Still, I've never been able to understand one thing:  unless we have been through a specific experience, how can we understand how a person feels?  It could be anything, but assume major events like, the birth of a child, battling a terminal illness, the loss of a parent, surviving a terrible accident, being laid off suddenly, having an abortion, dealing with abuse or assault, grieving the loss of a loved one, coping with the empty nest or a painful divorce.  We're always so quick to judge others.  Why?  I think it's because what others do is often a threat to our comfortable bubble, isn't it?  But, in reality, isn't that's the exact moment those need help, empathy, compassion and love?
So, stop being afraid.  Reach out.
I'm not forming this opinion just because I read a bunch of books on feminism.  During this inauguration, I can't help but think of the strong women in my life that have come before me, and those who I hope will come after me.  My great grandmother from Karpathos, Anastasia, was a brave lady.  I never met her, but the stories I hear from various people are consistent.  She was a kind, hard working mother who supported her two daughters.  Her husband left her to go to the States and never really returned.  He hardly sent money.  Anastasia raised her daughters alone, and it was hard.  But, she had her own house (the one we have now) and her own land (our orchards) and she raised those girls well with dignity, love and a strong sense of self.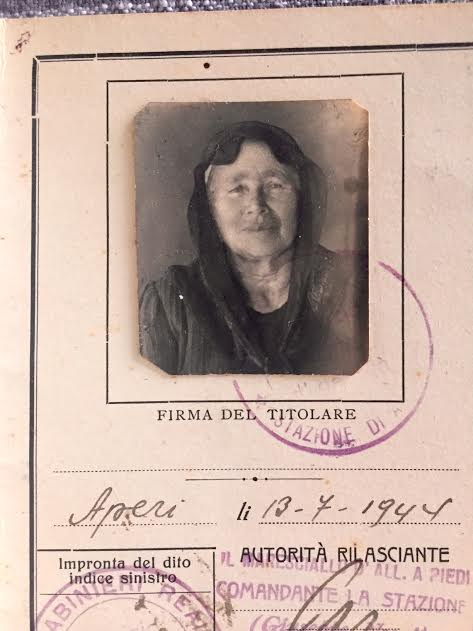 Persephone, the oldest by five years, and Aphrodite (my grandmother) were Anastasia's two girls.  They were very different and very close.  Both were trained seamstresses and took in work to help support their tiny family, and also worked in the olive grove during picking season.  Persephone married a photographer, Basil, who had become a US citizen after fighting in WWI and they moved to Gary, Indiana.  Aphrodite, the more ambitious of the two, was left behind and waited impatiently for her sister to bring her to the US.  While she had several marriage proposals in the village, she declined all of them.  She had her eyes set to leave Karpathos and made that clear to her mother, who knew she had to let her go.
In July of 1938, that day finally came.  Determined to make the most of her life, at the ripe age of 27, Aphrodite left Greece as an Italian citizen, and traveled alone to Paris, and from Cherbourg she sailed to the US.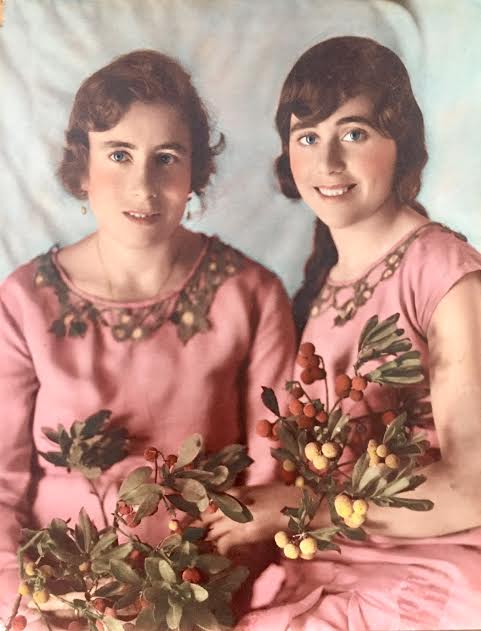 I'll share this story, as it was told to me:
Persephone was a uniquely kind and compassionate lady, whereas my grandmother was also kind, but very firm and as tough as nails.  She never forgave her father for leaving her mother alone to raise them.  Years later, when both sisters were settled in the US, somehow their father heard about it, tracked down Persephone's home address and showed up at the door.  Unfortunately for him It so happened that Aphrodite was visiting her sister for the summer from Florida.  And Persephone answered the door and saw her father after decades.  She may have felt a duty to take him in and care for him in his old age.  But, Aphrodite didn't feel that way.  She finally had her say and told him he was not welcome.  From what I gather, he left and that was the last time they saw him.
And from my father's side, in Asia Minor, it's said that my great grandmother, Permanthoula, was very brave.  Apparently, she carried a pistol in her undergarments when walking alone to protect herself from the Turks, especially when the tensions started rising.
So, I try to tell Anna that she comes from a strong line of women.  Women who were independent, curious, brave, and found themselves strong enough to tackle unknowns even when they were scared.  And they sought a better life for their children's children.  And then I hear ignorant people who say they hate feminists, when they don't even understand what that means.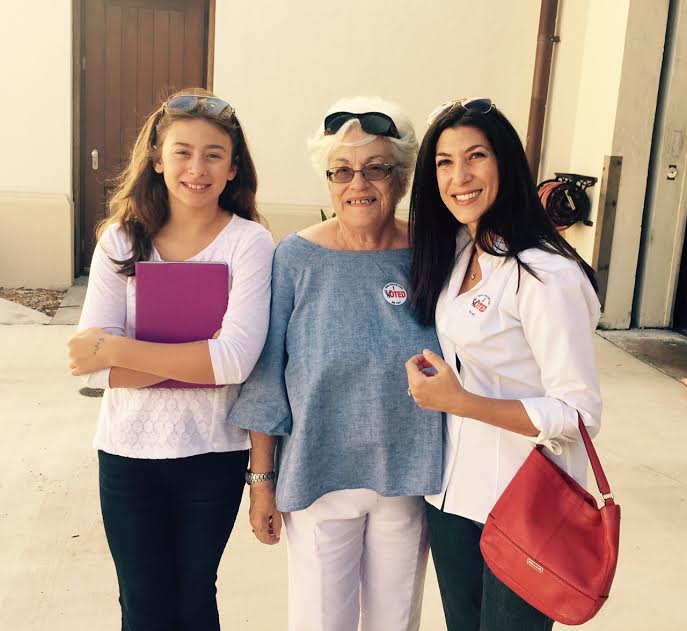 Character is built over time, by asking questions, by resolving problems reasonably, by making mistakes, by learning lessons and having experiences.  I'm not sure how you can build character by marinating in comfort or by surrendering to the status quo. It depends on what your goals are, I suppose.
We have a voice that can make a difference.
Last night, Anna designed a sign for the march for me.  I won't tell you what it says.
It tells me she got the message 🙂
On the food front, I'm falling a bit short today.  And tax season is really picking up and I'm noticing my time is becoming more and more limited.  But, we actually went to the South Florida fair yesterday and tried a doughnut burger.  That part was disappointing!   Given the publicity of this fair delight, it was definitely not as good as I thought it would be.  The bacon was not crispy, the burger was overdone, the doughnut tasted stale…  So, we came home and I made pizza on naan bread for dinner.  Yum.  I'll share my homemade pizza recipe sometime soon.